On this page we take a look at popular living room trends for 2019 and beyond.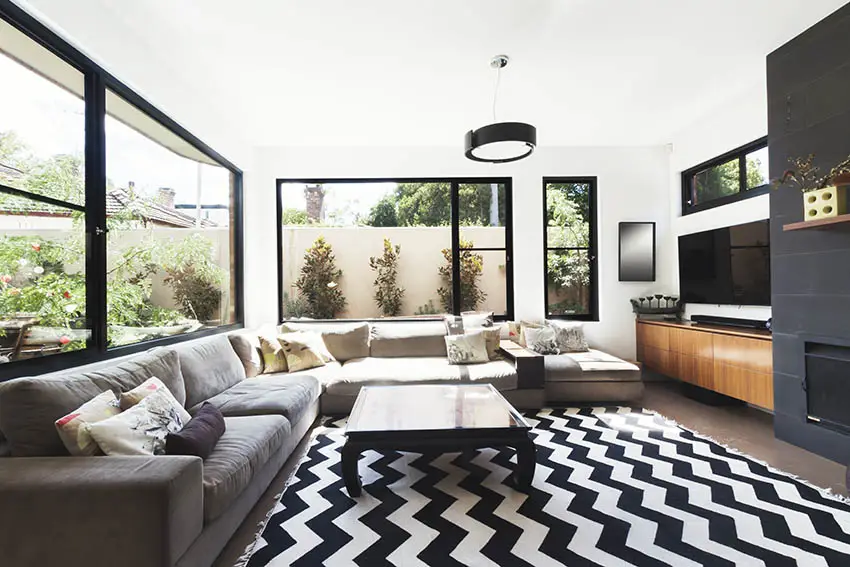 If the past few years of expensive, exclusive furnishings have left your wallet empty and your home feeling a bit cold, you'll be happy to see what is trending for your living space in 2019.
The luxury is still there, but we are seeing a trend towards more economically and ecologically friendly ways of achieving that luxury.
Bold colors, rich textures, soft textiles, and reclaimed materials are all coming together to make cozy, modern interiors that reflect our need for comfort and our eye for beauty.
Texture
2019 is bringing us a lot of texture, from textiles to hard surfaces, texture is going to be a major player in your design.
We're seeing a huge come back from velvet, suede, and leather. Vintage sofas look great when reupholstered in soft, rich, dark tones of velvet. Panels of velvet draperies add a lush elegance when updating your space.
A leather chair in a modern, geometric shape will add that pop of warmth that we all crave. Perhaps your style craves a round, suede ottoman.
Recycled Decor and Materials
Reclaimed and recycled items are hot for 2019 and they won't break the bank. So, go 'round to the thrift shop or the yard sales and find pieces of furniture that have good structure and have them reupholstered in velvet, suede, or leather.
You'll have a custom piece of furniture that is right on trend for 2019 but will be timeless enough to carry you into the next decade. Keep a basket of chunky knitted throw blankets nearby for extra texture, a pop of color, and warmth on cold winter nights.
Natural Elements
Along the lines of eco-friendly, we are seeing a turn more towards natural elements in design. Reclaimed wood has been trending for a few years, but it is set to explode this year, making it more readily available and affordable.
Reclaimed wood, whether it is from tear-downs or logs that were fallen in storms, brings an element of history to your living room. It connects us with our past, with nature, and sometimes even with our community, which more of us are craving as we move farther into the technological era.
You can bring this material into your living room in many ways, from a small end table, to a full-on three-dimensional wall treatment done in reclaimed teak planks, the dark tones and aged patina of reclaimed wood keeps a modern interior from becoming too cold and impersonal.
There are some talented artisans our there creating amazing coffee tables with raw wood and glass, check your local art and craftsman shows to find a great natural piece for your living room.
Modern Finishes
Speaking of glass…Metal, glass, and ceramics are hot and we are all ready for it. The past few years have been all about that bronze but other metals are feeling the love for 2019.
Satin gold and brushed brass are THE it metals for your home for 2019. They look incredible with all of the dark woods, deep paint colors, and rich textiles. Brushed brass brings a subtle elegance and modernity to your living room.
Frame all of your artwork in satin gold or brushed brass frames or sprinkle in a few small metal-framed end tables.
You don't need a lot here, you can even update existing drawer and cabinet hardware with satin gold or brushed brass to give your living room a fresh, updated look without breaking the bank.
Accents such as lamps can easily be updated with a can of spray paint in either of these amazing finishes, recycling is also a huge trend for 2019, so find creative ways to update your space using what you already have.
It is mind-blowing what a can of spray paint can do, they are much higher quality than they used to be so you don't have to worry about your finishes looking inexpensive or dated.
Keep It Illuminated
With all of these dark woods, dark colors, rich fabrics, and matte metals, how do we keep it from looking too dark? Keep your furniture shapes modern, and more importantly, keep your lighting bright and plentiful.
Take advantage of natural light from you windows by installing Plisse shades, these light and airy shades allow you to maintain privacy while still letting the light shine through.
Make sure that you provide task lighting where it is needed in the form of lamps. Make your artwork the star and put a little gleam and glow on those satin gold frames by install wall-mounted lighting that highlights your art.
Put your overhead lights on a dimmer switch so you can control the mood in the room for all occasions. Visit our page about decorating around a TV more more related living room design tips.