Here we share colors that match with purple to create a harmonious and appealing interior design.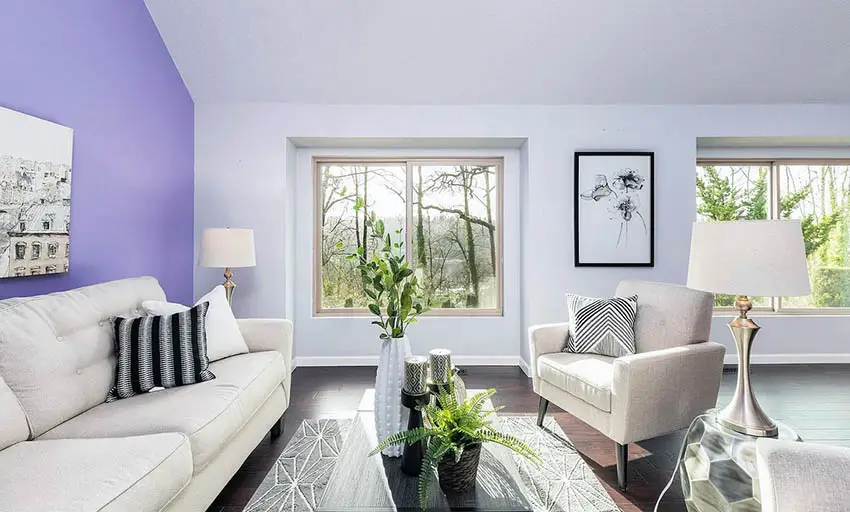 Purple is not just one color, purple is a variety of shades and tones that can create a wide range of designs. When paired with certain colors purple can create feelings and aesthetics that can promote actions, or suggest who uses the space, or why it is used. Be sure you are using the right color combinations as well as the type of purple you use to create the intended look. Some suggested combinations are described below.
Purple and Blue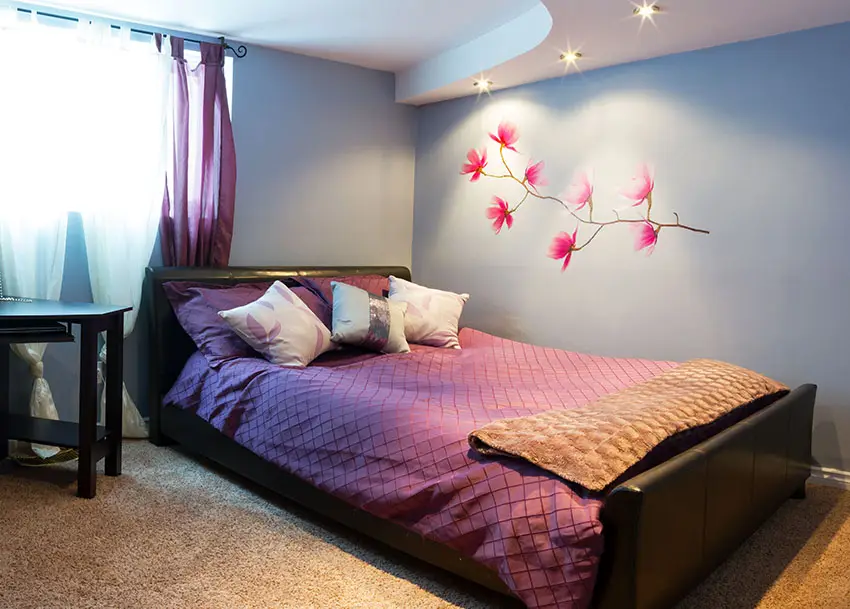 Purple and blue are a great combination that keeps a calm and cool aesthetic. Lighter shades of purples and blues can also add some light green into the mix to give a brighter, more playful look to the room.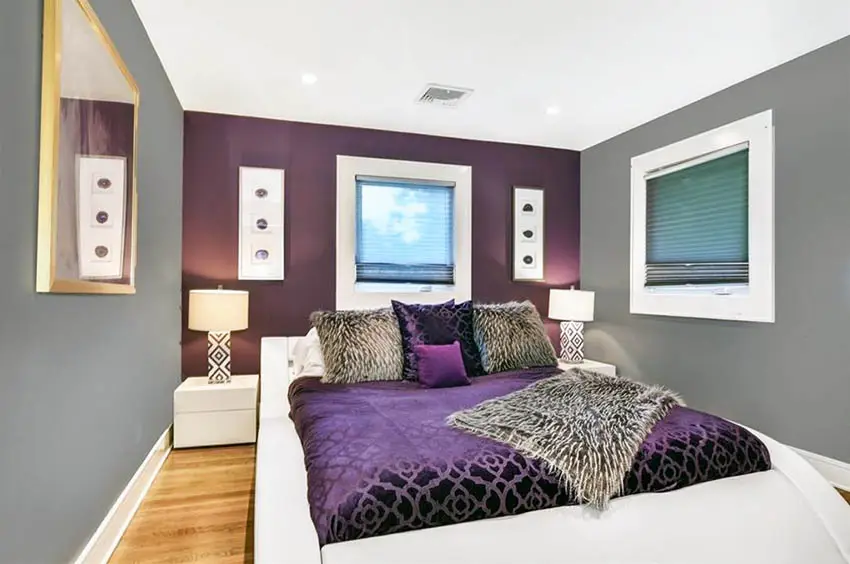 Going with richer, darker shades of purple and blue make the room heavier and promote more sleep related colors in the bedroom. See more purple bedroom ideas here.
Using clear or white finishes is recommended when using brighter shades, as well as light, yellower wood tones. For the darker shades silver and gray finishes along with darker or gray wood tone items compliment and accent the space.
Purple and Pink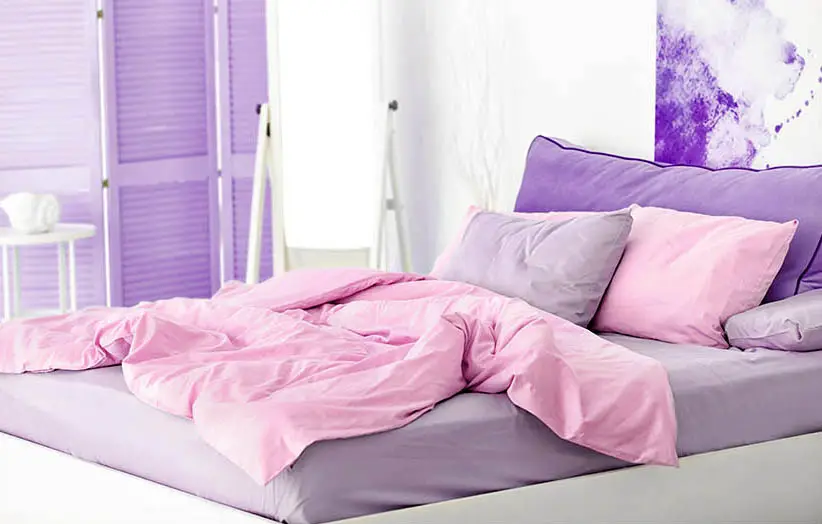 Purple and pink is somewhat of an iconic duo, often being the first pairing you think of when purple comes to mind. The combination can also include some oranges when trying to keep a bright and playful palette. These colors give an extremely energetic and loud visual.
Using darker pinks and purples can tone down the energy a little, if there is fear of overwhelming the space, which can be common with this color combination.
Using bright pinks and purples scream enthusiasm and will need a good neutral, commonly black, to bring the space together and add some structure.
When mixing deeper shades of purples of pink, you can throw in some reds to give a romantic or intimate feel to the space.
The lighter shades of this color combination goes well with clear finishes and lighter, warmer wood tones. The darker shades can become extremely powerful with black or white finishes, and dark espresso colored woods.
Purple and Gray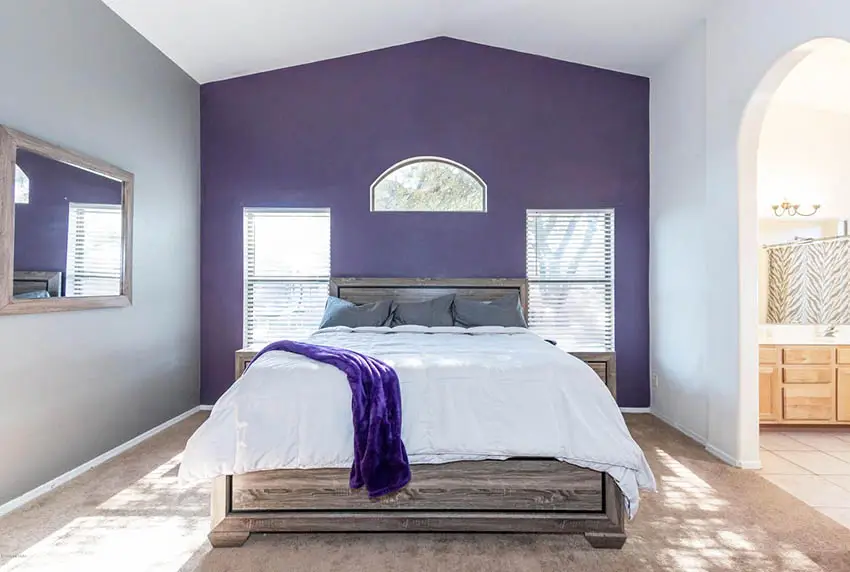 Purple does not always need to be on every object of a room to be noticed. Using purples and grays together can lead to an upscale look without an overwhelming amount of color. Pulling out the cooler tones of both the purple and the grays give a sophisticated and complete look. Multiple shades of gray are recommended as to not leave the space one note.
Incorporating black also gives a sleek look to the space, as well as mirrored surfaces. That being said, for those purple enthusiasts, purple can be the main color, using many different shades, hues and tones, while using the gray as an accent to tie the space together.
Both mentioned color combinations pair well with silver or black finishes. Pulling in cooler, darker wood tones or gray wood tones can also tie the space together.
Purple and Beige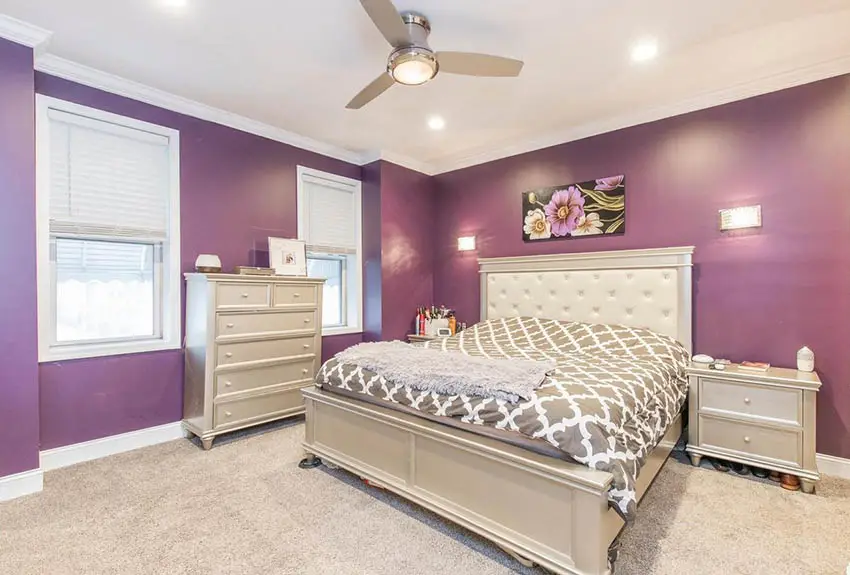 For a soft, inviting and neutral space, purple paired with beige is a must. Using pale purple accents and furniture pieces in a mainly beige or taupe room gives a relaxing feel to a bedroom or living room.
It is best to use purple sparingly, but it could be any color purple on the spectrum, as the color gets darker, the heavier the room will get, the lighter shades give the illusion of a light and a softer space. – interior designer Savannah.
Multiple shades of the color and the neutral are welcome to help give the space dimension without adding too many colors and taking away from the simplicity of the overall space. These are best paired with warmer, medium tone woods as well as white, beige, or wood tone finishes.
Purple and Yellow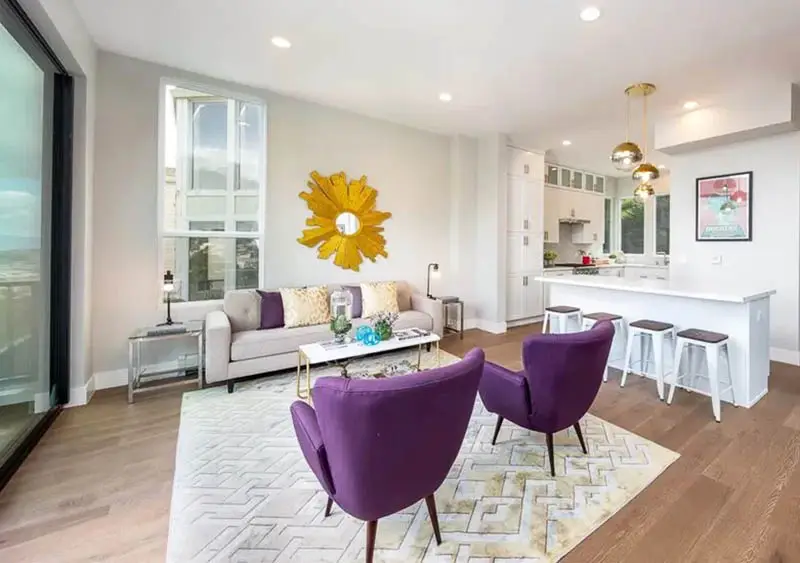 While most may not initially think to pair the colors yellow and purple, they are complimentary colors, meaning they are opposites. Complimentary colors are extremely appealing to the eyes, and these are not an exception.
Selecting one of the two as a main color and the other as an accent is the best way to start. In the idea that yellow is the main color, whites creams and lighter colored wood tones are recommended to bring out the warmer tones of the space. Then the purple accents would be brought in to cool it down and offer contrast to the space.
In the matter that purple is the main color, with the intent of a cooler space, darker woods and black finishes are recommended. Throwing in some white finishes with the yellow accents brightens the room and adds interest to the space. For more related designs take a look at our accent wall colors gallery page.