Guide to the best bathroom designs for 2019 and beyond.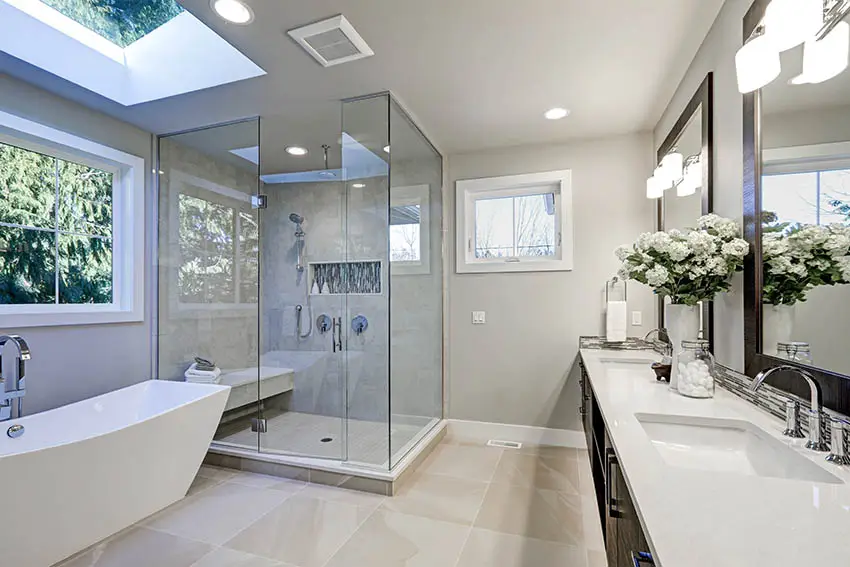 The bathroom design scene of 2018 was all about freestanding bathtubs, earthy tones, raw metal finishes and classic subway tiles. But this year, the direction of bathroom design is geared towards creating large, practical, functional, innovative spaces which exude organic coziness and elegance by combining both natural and modern materials.
In general, the new bathroom conforms to a modern aesthetic but hangs onto inspiration from nature – think warm color palettes, seamless lines, geometric shapes and matte textures. Join us as we have a look ahead at the hottest bathroom design trends for 2019 and beyond.

Spacious bathrooms and supersized shower areas
For the coming year, it will be all about creating large, open bathroom spaces. Gone are the days were bathrooms are merely used for hygienic purposes. Nowadays, they tend to be a place of sanctuary where one can enjoy some peaceful rest and relaxation after a long tiring day.
More and more homeowners are drawn to dedicating a large amount of their homes for supersized bathrooms.
If the existing site conditions of the house permits, people to try expanding their bathrooms by using up disposable space in the house, like an unused walk in closet, a wardrobe or a spare room.
While for some who do not have the luxury of space, they opt to play up with visuals in order to create an illusion of added room. These can be achieved through simple design solutions such as the use of large tile flooring, mirrors, light color schemes and proper lighting.
The focus of modern bathrooms will also shift to the shower area. There is an ongoing and a continuing demand for large, open and practical shower areas.
The new multi functional shower area is completely furnished with an integrated bench for seating, a steam system, special showers, ambient mirrors and linear floor drains.
Italian showers also continue to be an in thing in bathroom design as their glazed walls render minimalist aesthetics and promote an open, airy feel in the bathroom.
Creating Efficient Small Luxury Bathrooms
Homes with smaller layouts do not need to compromise on luxury and style. By focusing on efficiency and high end finishes one can create a spa like sanctuary on a smaller scale.
By using every scale inch with a carefully created bathroom layout, colors and patterns one can create the illusion of a larger area. Elements such as space saving walk in showers, floating vanities, and smaller freestanding tubs are just a few of the trends growing in popularity.
Practical and smart storage

Storage is also another integral part of new bathroom designs, wherein shelves and niches are integrated into shower areas or bathroom walls to hold toiletries and keep them within reach. Storage is added, multiplied and optimized in any area possible, and often incorporated into the design to create a more seamless look.
To keep up with this trend, multiply storage space by incorporating drawers, cabinets and shelves into your bathroom's design. You can also conceal storage units in walls or built in bathroom furniture to create a bigger impression of space.
Opt for floating vanity counters to save on floor space and choose modular bathroom furniture that have simple, straight shapes and use them sparingly so they don't make your bathroom feel cluttered.
Technology and digital control
With the advent of smart spaces and the ever evolving advancements in technology, bathrooms in 2019 will be more high-tech.
Think of multi feature bathroom faucets, shower jets and controls, motion detecting lights, voice activated speakers, heated floors and touch mirrors which allow you to control light and temperature with a single tap.
Basically, many things will soon be controlled via touch, or in some instances by using your phone, making it easy to use your bathroom, while also enhancing the experience in the space. After all, technology is now accessible for everyone.
Rich and warm color palette
Gone are the minimal color palettes of previous seasons, but instead rich and warm colors will continue to pick up steam in 2019. Dark and moody colors reflected on tiles and other finishes will be dominating bathrooms. When used right in bathroom, this color palette will bring in luxury and sophistication.
With emphasis on the use of natural finishes, colors will be geared towards darker grays, making it the hottest color of the season. Although gray may sound unappealing or too dull for others, it actually works pretty well in creating a dynamic atmosphere and rendering a quiet strength to bathroom spaces. It promotes a tranquil mood, while also creating visual interest especially when used in a variety of rich shades and hues.
With that said it's important to focus on adding proper lighting when working with darker color designs. Contemporary bathroom pendant lights and chandeliers in brass, copper and gold finishes can help provide the look you want.
Also, bid goodbye to all white bathrooms, as newer designs are more geared towards an interesting color palette, reflected by a mix of materials and textures Instead of just sticking to one shade, layer warm, rich hues with unique materials and textures to create a sophisticated bathroom space.
In terms of textures, a lot of attention will be given to matte and nude finishes, so say goodbye to bright, high polished and glossy surfaces. These textures work well when combined with a rich, warm palette as they create contrast in the overall scheme of a space.
Blue is the top accent color of the season
Shades of blue will be the hottest accent color for bathrooms this coming season. To give a fresh contrast to rich, warm palettes, blues will be popping up in countertops, wall tiles, wallpapers,accessories, cabinetry and other decor.
From dramatic navy blues to bold ceruleans and dark teals, the color blue will be bringing a refreshing twist to bathroom color palettes.
Bold brass hardware
Bathroom fixtures and faucets are beginning to veer away from traditional hues. Metal hues of brass and gold will be common accents for bathrooms, adding a stylish 70's vibe and a visually interesting aesthetic.
Take a break from polished chrome faucets or silver metal hardware, but instead explore the newest most fashionable metal in the bathroom, which is brass.

Combinations of natural and modern materials
The past year was marked by a return to organic materials, mixed with modern alternatives to create a functional and stunning bathroom design. Nowadays, most suppliers tend to mix up materials by recreating the look of natural finishes in modern materials.
Think of wallpapers with wood like designs or tiles that mimic natural stone. These give the same interesting look that natural materials provide, while providing the benefits of modern materials.
Quartz countertops
Granite is now dethroned as the most well loved bathroom countertop finish, but instead Quartz will continue to make waves in the design scene. This engineered stone features a stone like appearance and a clean look combined with maximum durability and an impressive lifespan.
Quartz will continue to appear as bathroom countertops for vanities, but its application is not limited to such alone. Quartz can also be used as a unique wall finish or a trusty, sturdy flooring material in bathrooms.
Hand carved stone sinks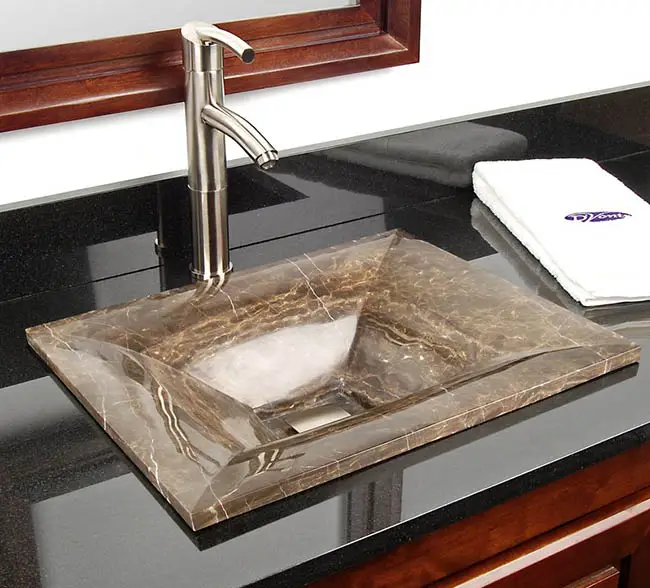 Natural stone bathroom vessel sink

Porcelain will remain to be a classic, traditional favorite for sinks, but more interesting design options will be heading out this coming year such as beautiful hand carved stone sinks. Again, this is in line with the emphasis of natural materials and finishes.
Hottest Bathroom Tile Trends for 2019
Tile shapes : A play with unique geometry
Tiles with prominent architectural and structural elements, sharp lines and defined forms will be dynamic additions to new bathroom designs.
Bathrooms tiles and cladding designs will continue to veer away from traditional rectangular and square shapes, but instead there will be emphasis on other variation of geometrical forms such as hexagons, herringbone ,zigzags, triangles, etc.
Classic hexagonal tiles will be the top tile shape of the season and will be dominating the walls and floors of bathrooms, while rendering a modern twist to the space.
Tile textures : 3D or three dimensional tiles
3D interlocking marble mosaic bathroom tile

Three dimensional tiles will also be an in thing this season adding depth and variation to a bathroom. They create a more interesting visual effect, while also allowing the users to experience a different kind of texture in the space.
Bright, polished tiles will also be losing their light in 2018, but instead more focus will be given to matte, natural tiles.
Tile layout : Continuity
Continuity between the wall and floor tiles will also reign in tile layouts, maintaining amore seamless look throughout the bathroom space.
Tile color : Lesser whites
The classic white subway tile will take a break from the interior scene. Plain, solid colored tiles are also out. But instead think rich tones such as deep blues, soft plum, warm grays, beige and browns.
Trending types of tiles for 2018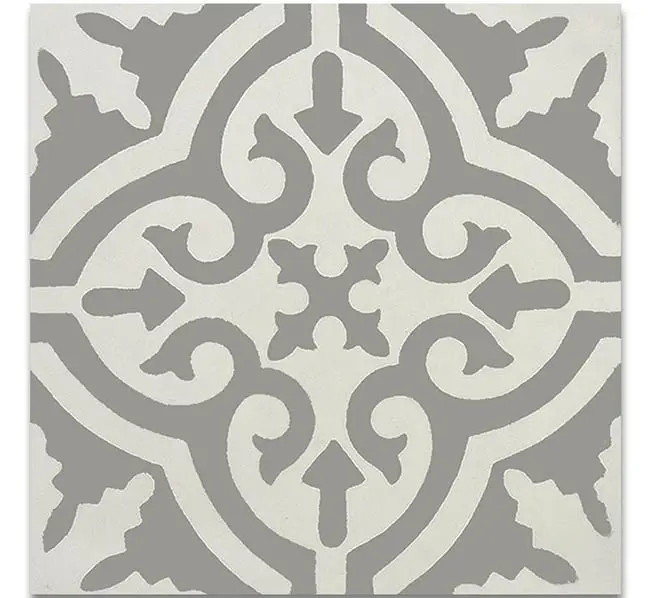 Gray & white geometric cement shower tile

Geometric cement tiles – With the intent to use natural materials, cement tiles are going to be increasingly popular this year. Also, the use of cement tiles in bathrooms is in line with the prominence of natural textures and warm color palettes.
Encaustic patterned cement tiles – Encaustic patterned cement tiles originated in catalonia during the 1850's and are well known for their bright colors and intricate patterns.
Originally inspired by Moroccan and Cuban motifs, encaustic patterned cement tiles of this era will be shifting to less elaborate patterns and will be geared towards geometric patterns like cubes, hexagons and triangles.
Tainted Glass tiles – As mentioned, beige is making a comeback in tile colors, and this will be prevalent in glass tiles. Rich, cashmere toned stained glass tiles will be featured in bathroom accent walls or in shower areas.
Terra cotta tiles – A popular feature in old bathrooms of the 1970's, terracotta tiles will actually be an in thing by 2018. These natural, rustic tiles will be used in more modern applications and innovative variations such as large format tiles, hexagon shapes or mixed with pastel toned accents.
Grid colored tiles – Substituting the classic subway tiles are grid tiles. These small square shaped tiles provide a modern twist to traditional tiles, but still render a retro vibe and a graphic feel to bathrooms. You can find graphic tiles in bright shades which range from light blush pinks to rich navy blues.
If you would like to see how different finishes look in your design there are bathroom remodel software available to help you. Visit our software review page for pros and cons to help you select the one that's best for your project.