On this page we share the best bathroom colors for 2018, including paint, finishes and countertop ideas.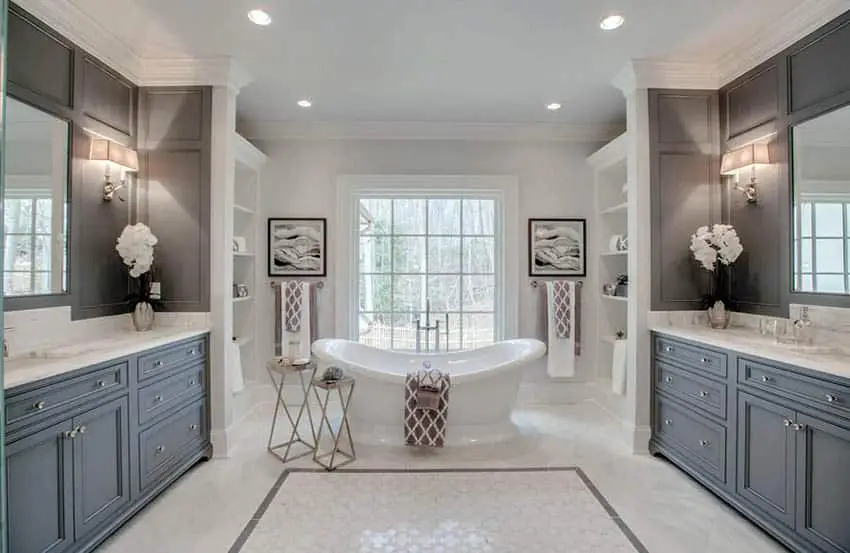 We've seen some big looks this past year, mostly luxe and expensive, but the tide is turning in 2018 and we're seeing frugality, eco-friendly, and more DIY looks trending in design. Along with it, the color palette is changing to deeper, more earthy colors, and we are filling our indoor spaces with greenery and plant life. All of this makes 2018 the perfect year to update your bathroom.
Bringing in these new colors doesn't have to be a big project, something as simple as paint or new accessories can have a huge impact on refreshing your space. Of course, if you are having a home built or have the budget for a major renovation, look to dark woods, ceramic tiles, metal, and cork to really pull your new colors together and create a space worthy of a long, hot, relaxing bath.
One of the biggest color trends for 2018 is red. Not just any red, tonal reds. Pantone's Chili Oil is an earthy delight, a sultry brown red, reminiscent of the color of sun-bleached baked clay tiles.
When used with Millennial Pink, a pinkish, grapefruit shade, you create a timeless palette that can adapt to the changing trends. Add in dark wood furnishings, brushed nickel taps, fluffy white towels, and antique glass light fixtures and you have a classic beauty. Another great red for 2018 is the bright Cherry Tomato, a cheery burst of garden fresh color sure to energize you and brighten your day.
If the thought of painting your walls such a bright red color is daunting, go with updating your accessories. Cherry Tomato is perfect for a more natural look. Purchase a large, inexpensive natural woven basket and paint the bottom half Cherry Tomato, fill with your fluffiest towels or your favorite robe and slippers.
Many Persian rugs have Cherry Tomato tones in them, find one to place on your bathroom floor, place a few ceramic Cherry Tomato-colored candle holders on your tub, and put a large plant in a Cherry Tomato red planter for a pop of trendy color that doesn't overload your eyes.
When using Cherry Tomato as an accent color, go for an off-white on the walls, Coconut Milk is a great color, not quite white, not quite as boring as beige, and a great background for a bold red.
Or go with Warm Sand, a beachy-hued neutral that adds a bit of warmth to your space. Keep your accessories natural and simple, a footstool made of driftwood, a mirror framed in reclaimed teak, a vase of wildflowers on your counter, giving you a slightly rustic but thoroughly modern look.
Another big trend in 2018 will be deep, moody colors. Continuing the trend with recent years are different shades of gray. Popular new shades of gray for 2018 include glistening gray, alley cat and black flame. One of my personal favorites is Black Flame, a deep, rich indigo-hued dark gray. Better thank black, this color is deep, moody, and gorgeous. A Black Flame tiled wall makes a stunning backdrop for a bright white tub with Satin Brass faucets for an eclectic look.
Continue the Black Flame color in the form of a durable paint on the rest of the walls, keep all metal accessories Satin Brass. To continue the eclectic look, find an old, natural wood dresser or sideboard and retrofit it to act as your vanity, top it with bright white, countertop sinks, square sinks would look great here. Use an oversized mirror over the vanity and keep your lighting simple, using Satin Brass for the metal. Keep your towels bright white and fluffy.
For flooring, go with a bright white ceramic tile in an interesting shape, octagonal or rectangular would be perfect, but oversized square tiles would also work well here. If black is a little too much, try Emperador, a gorgeous milk chocolate that is the darling of NYFW for their 2018 spring shows.
From the runway to your bathroom, this color is rich without being overpoweringly dark, like melted milk chocolate or a warm hug. Pair it with teal for a global, rustic look or with navy blue for a more sophisticated polish. Pair it with white furnishings and case goods, mosaic tiled framed mirrors, and a raw wood shelves held up with leather straps for your rustic look. To keep the sophisticated glow, use copper or brushed bronze metal accessories, white wood furnishings, and supple monogrammed white towels. A beautiful natural stone floor completes either look beautifully.
Meadowlark is another darling of NYFW for 2018, and why not bring it into your home? Meadlowlark is a soothing, muted, gold-toned yellow. Not dull or muddy like the goldenrods of yesteryear, not bright and jarring like the golden arches, this yellow is nature-perfect and soft. Picture your powder room all dolled up in a Meadowlark, a round, silver-framed mirror floating above a classic pedestal sink. For the more adventurous, a bold geometric wallpaper in Meadowlark and White is the perfect choice for a powder room.
Geometrics are another hot trend for 2018, making a bold statement even when you don't want to use bold colors. A dark wood vanity and large, rectangular framed mirror would be a great fit for a geometric Meadowlark wall covering. Add a small, antique bathroom chandelier for a creative, personal touch. Keep your extra rolls of toilet paper hidden away in a repurposed ceramic planter, if you have the space. A framed plant print brings in another trend from 2017 that shows no signs of slowing down, greenery. You don't always need to have a plant; plant prints and plant-inspired accessories bring this trend to life nicely.
Nature inspired colors, rustic décor, greenery and plants, practical, and cozy are on trend for 2018. Now is the perfect time to redo your bathroom, whether it is a total overhaul or a simple accessories update, bring your space to life with these amazing colors. Dark woods, metals, and cork are all trending, so use them freely in your furnishings and accessories at these are often timeless materials that will stand strong long after the trends change.
Don't be afraid of the deep, rich colors that are hitting the stores this year, embrace them and create a bathroom that is at once sophisticated and frugal, giving our wallets a much-needed break from the opulent and often expensive looks that 2017 brought us. You can get more ideas by using one of the paint color visualizer programs found here. Visit this page for a complete list of popular interior design programs where you can add different paint colors to a variety of rooms.
DIY is having a huge moment right now and the internet is abundant with projects that beginners and advanced DIYer's can successfully complete. Use a creative eye when editing your accessories for your bathroom, what can you update with a little ingenuity and elbow grease? Whatever it is, put a pop of these colors in there to make your bathroom shine.