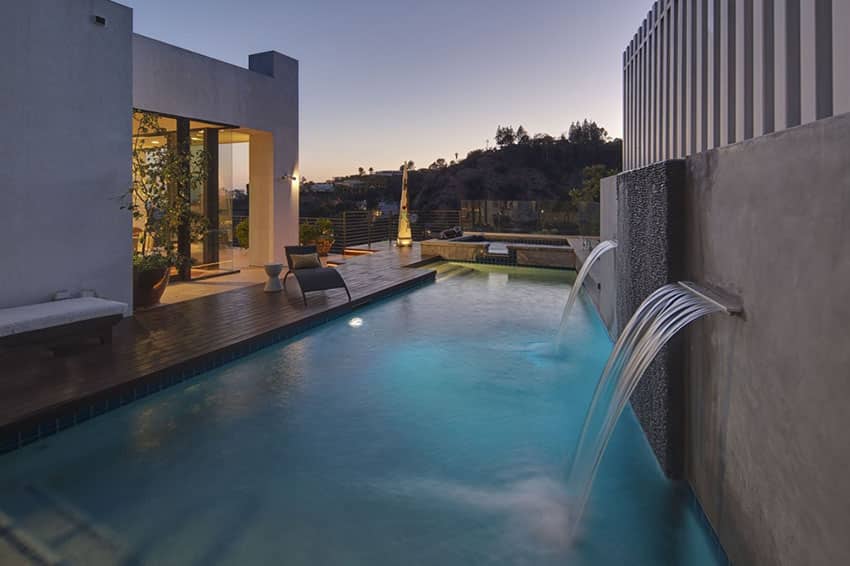 Welcome to our gallery of swimming pool water features. These pictures feature a variety of water features designed specifically for pools to enhance their beauty. There are a wide variety of water features available. Some of the most popular types of water features are waterfalls, fountains, cascades, sheetfalls, water walls and spillways.
In the picture above is a contemporary sheetfall water feature using stainless steel spouts attached to concrete walls gives a simple yet elegant effect to this modern pool area. A long wood deck frames the pool and continues to the spa with its impressive hillside view.
Water Feature Ideas for Pools
A water feature adds drama and a sense of luxury to your swimming pool. Here are some of the top water features for swimming pools that are sought after by homeowners today:
Sheetfall – Going for a more contemporary approach, sheetfalls flow in an arc of water in to the pool. They are usually easy to operate when run off your pools pump system.
Rock waterfalls – Constructed to look like natural rock formations, custom rock waterfalls can be expensive to install and usually run off of their own pump system separate from your pool's system.
Rain curtains – The water from rain curtains falls straight down creating a tropical lagoon effect that is eye catching and appealing.
Gushers, jets & bubblers – You've probably seen one of these types of water features in the shallow end of a pool. They generally shoot a thin spray of water directly up in the air. They come in a wide range of models and can run from inexpensive on up.
Scuppers – Popular in hot tubs a scupper can be as simple as a hole that allows water to flow in to the pool and recirculates back around. Scuppers are a great choice for those who want an easy to maintain water feature that will provide the soothing sound of flowing water.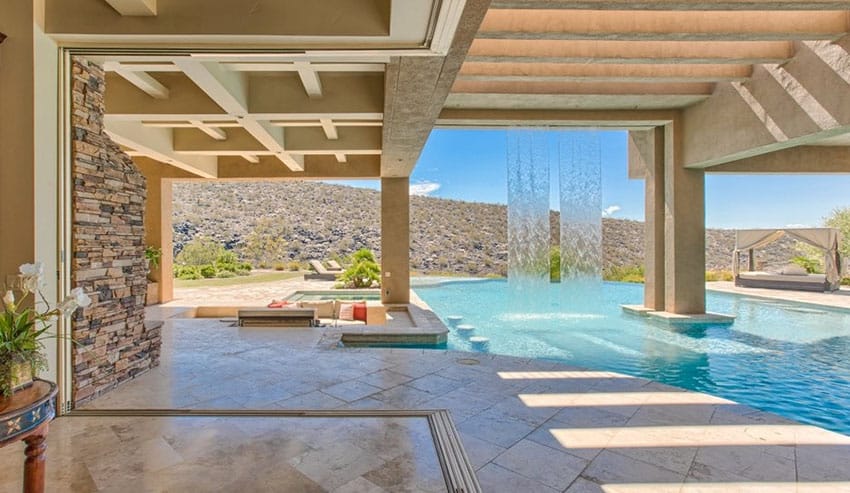 This massive Mediterranean style pool area gives it a touch of contemporary element by adding a cascading water feature which falls high from balcony/ceiling area. The twin sheetfalls gives it a high waterfalls effect, creating a curtain of water.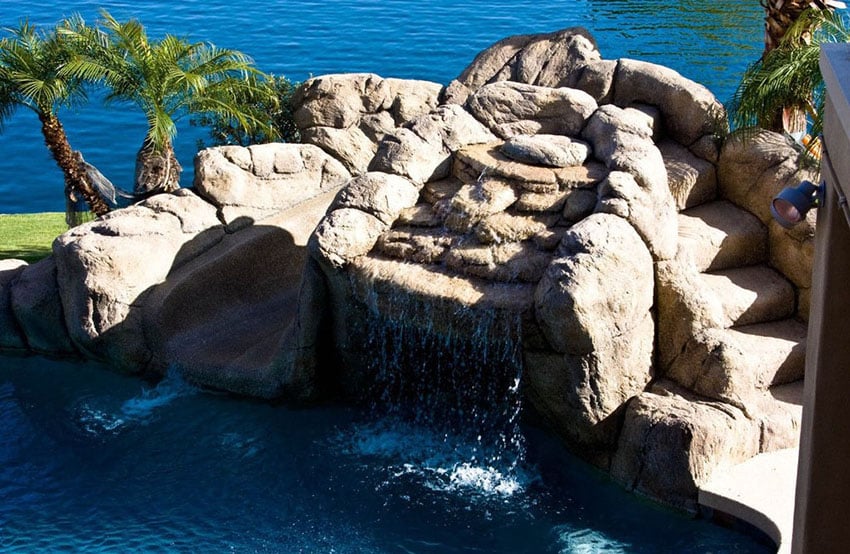 Lagoon style pools with a rock waterfall feature are designed to enhance its look and give it a more natural feel. Topped with a water fountain and slide this custom water feature really reinforces the look of a tropical oasis.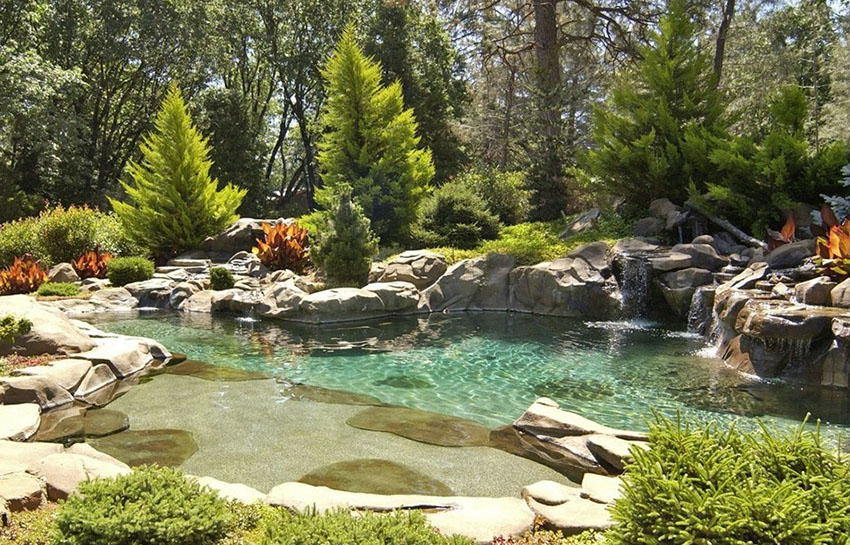 A lagoon style pool which uses rock waterfalls as added feature, but this one uses lower and a more random arrangement, giving it a more natural feel.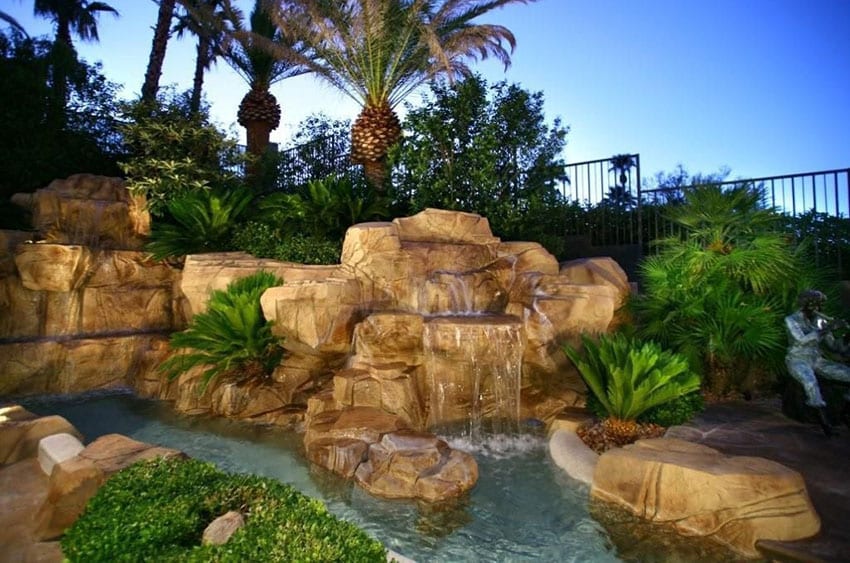 This tropical style pool  uses rock waterfall feature, created using large orange-toned sandstone boulders to give it a natural look. Swimming pool water features that have rock waterfalls are a great place for bathers to stand or swim and let the water cascade over them, creating a relaxing environment.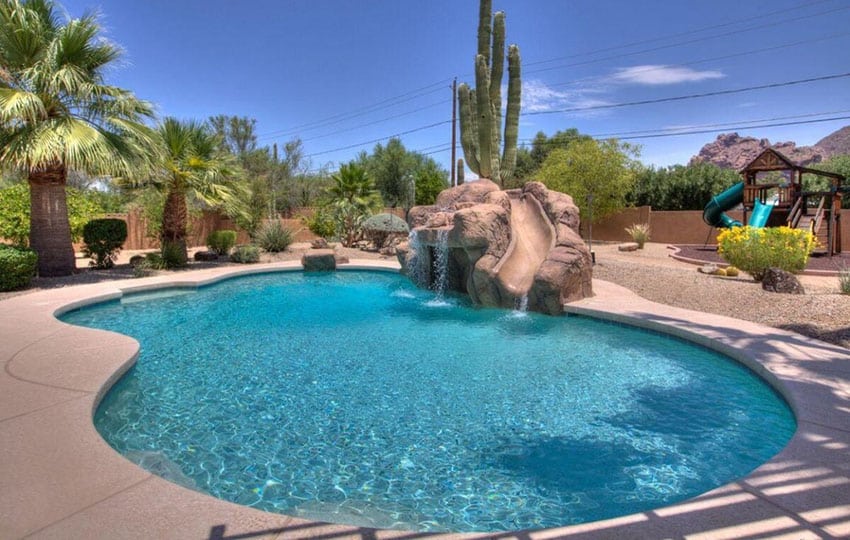 Despite the modern design of the pool itself, the water feature used is a rock waterfall, giving it a natural-looking element. The rock waterfall also functions as a pool slide, making the addition functional and aesthetically pleasing.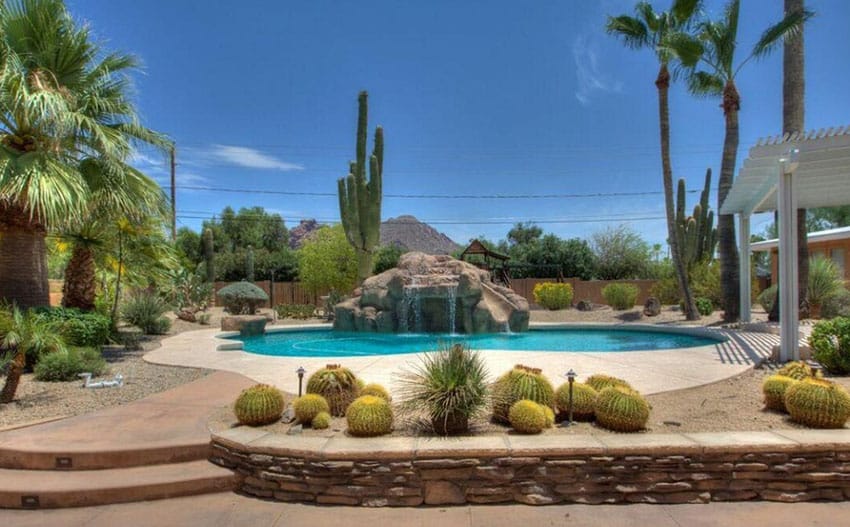 This is a different angle of the pool from above. Here you can see the concrete walkway, large wood pergola and surrounding landscaping with cacti and desert environment.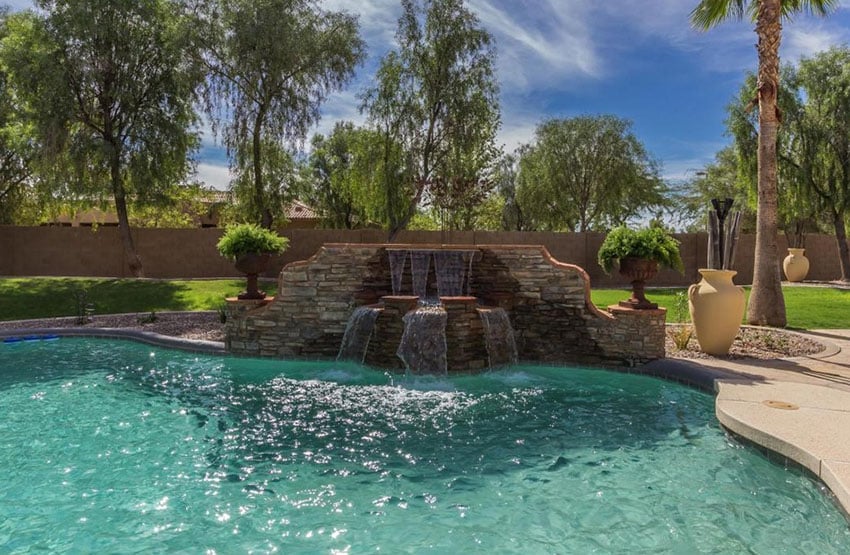 This rock waterfall feature lacks the natural look of the previous examples, as it goes for a more architectural look, using stone cladding on concrete.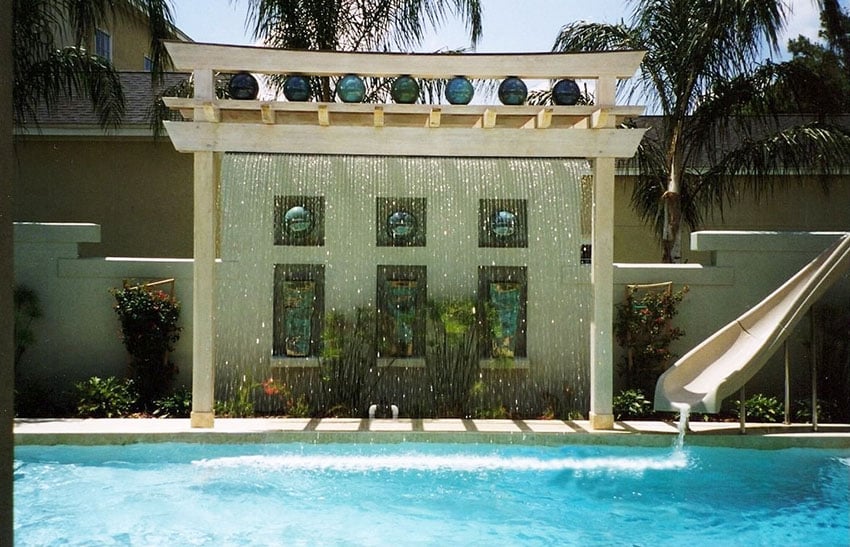 This rainfall curtain feature was placed on a Japanese-inspired wooden arc or torii, adding a soft and natural effect to the pool,and complementing the overall design of the surrounding space.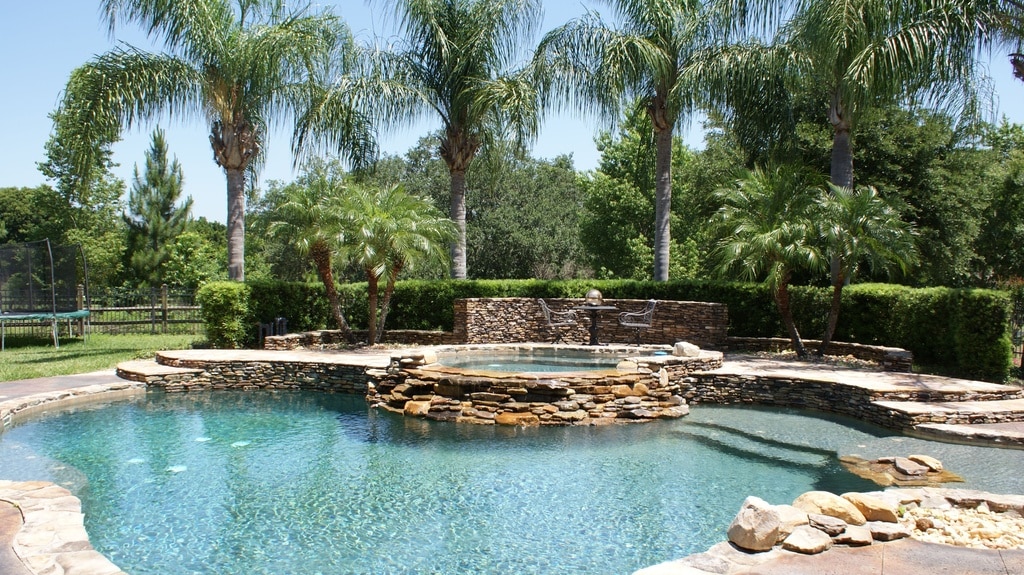 Another rock waterfall feature, but instead of using constantly flowing water from the elevated area, this one relies on the flow or movement of the water from the raised jacuzzi/pool area. The river stones clad around this elevated area help give a more natural-looking water flow.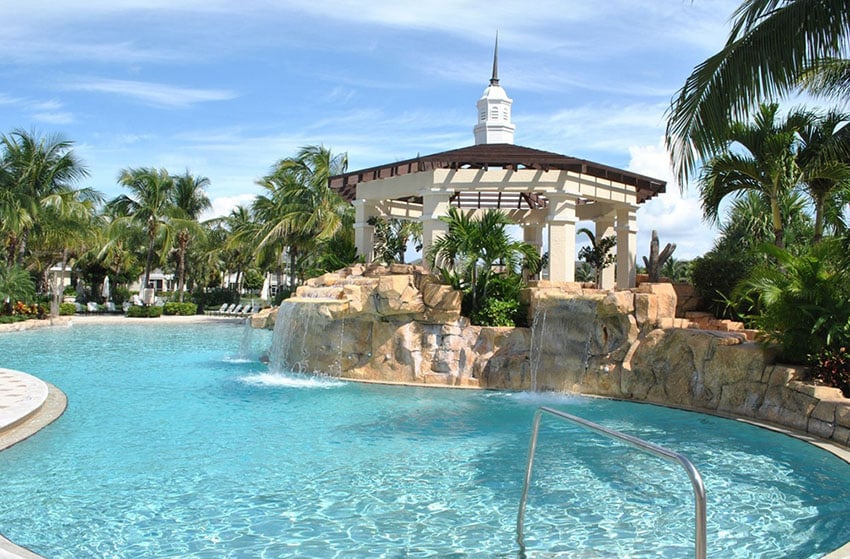 This massive modern pool adapts a rock water fall feature to match its Mediterranean style gazebo, using large blocks of limestone. This can also pass as a scupper water feature, as it uses the limestone blocks as ledge in which the water flows down.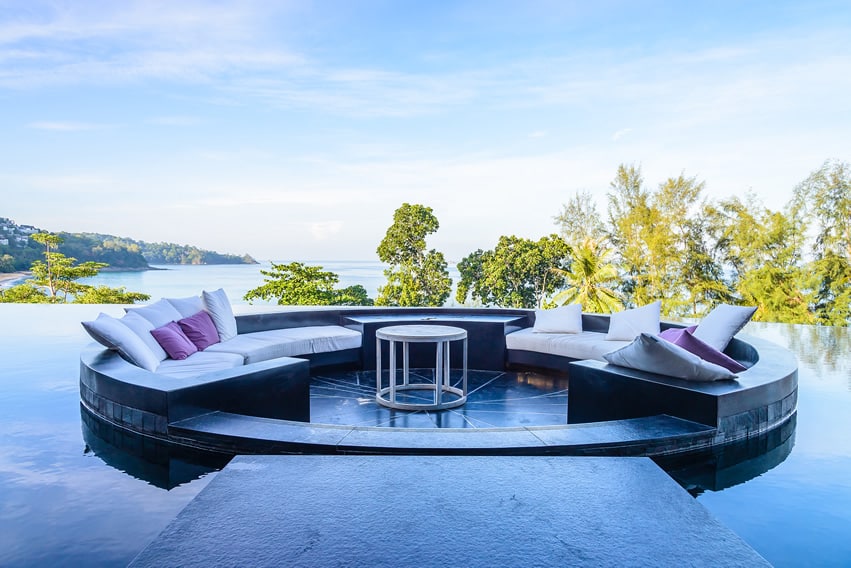 This dramatic infinity pool with seating area makes a big impression and is an ideal way to enjoy a cocktail and conversation. Not only does the outdoor living area have comfortable couches, it offers sweeping views of the ocean from its hillside locations.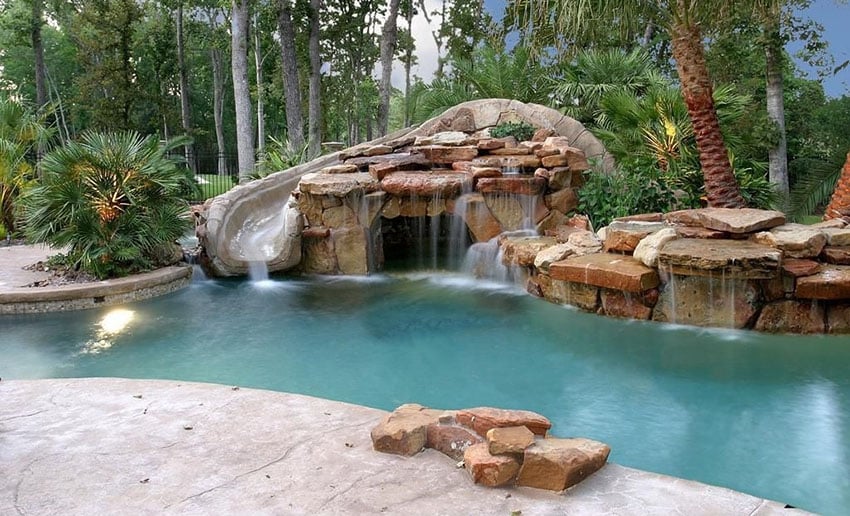 Swimming pool water features that incorporate natural looking stone give the illusion that one is swimming in a natural pond. The soft flow of the rock waterfalls adds a very ethereal over-all effect in this lagoon style pool.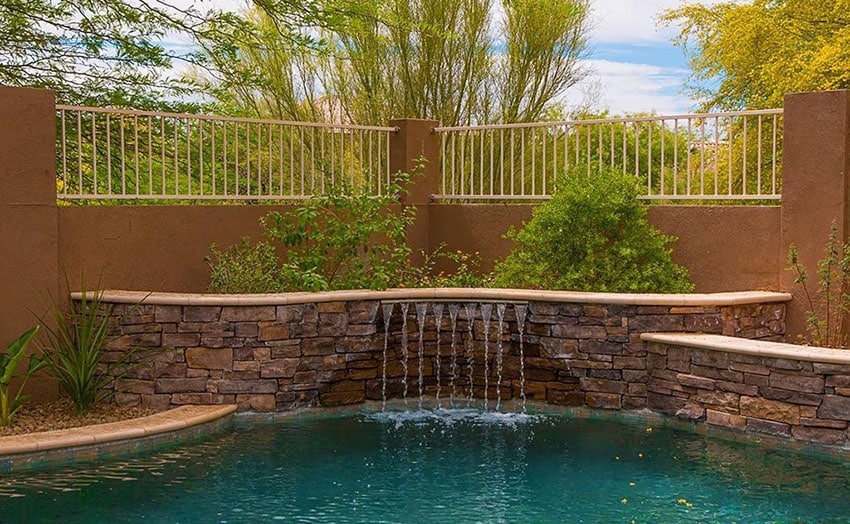 This pool has a very simple waterwall feature, placed on the plant box at the corner of the pool area.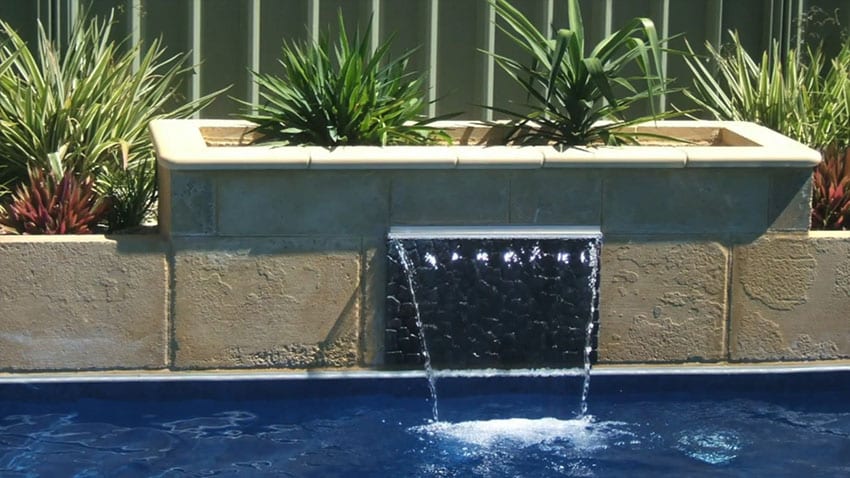 Another very simple water feature, using a small sheetfall feature placed right below the plant box at the side of the pool area.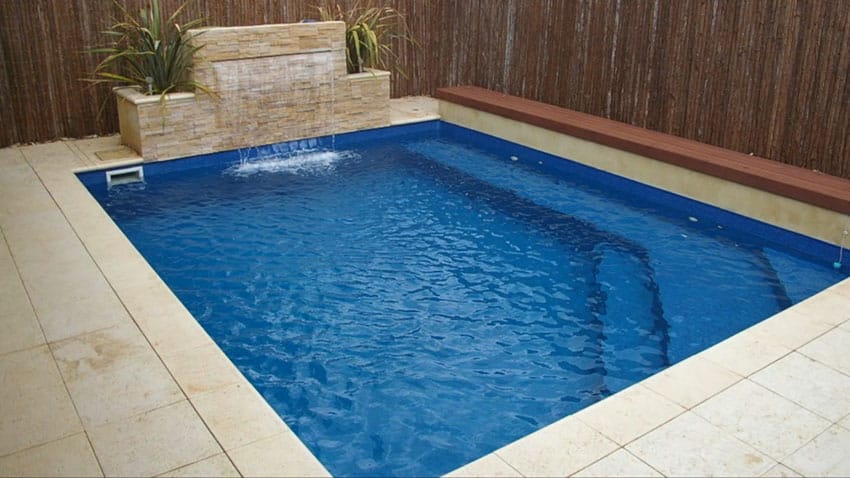 The very small size of the pool limits what you are able to place in the space, and therefore, a minimalist water feature was used. A sheetfall was used to add a wide, thin stream of water flowing from the plant box at the end of the pool.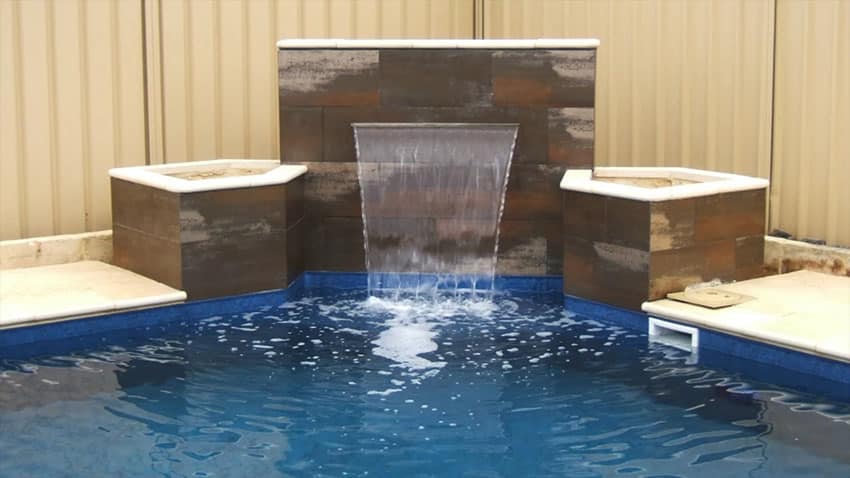 Another sheetfall water feature placed on a plant box with wood effect tiles at the corner of the pool area.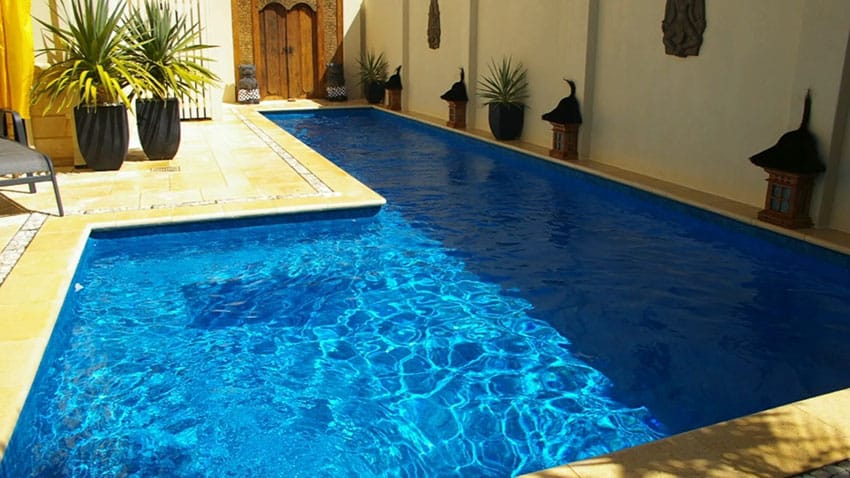 Due to the limited space, this contemporary Mediterranean-inspired pool uses a simple deck jet water feature. The large rectangular part of the pool is ideal for swimming laps while the other side is perfect for soaking.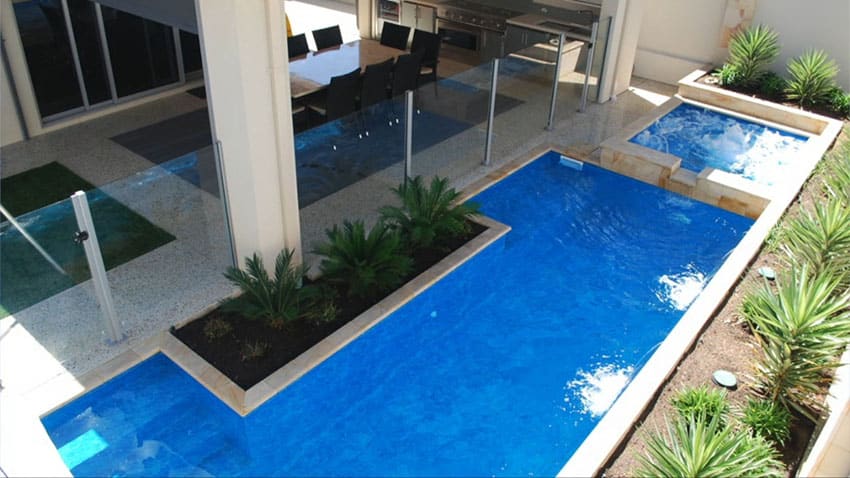 This modern pool design combines scupper water feature which allows the water from the Jacuzzi to flow down the main pool and a couple of sheetfalls placed on plant box side of the pool.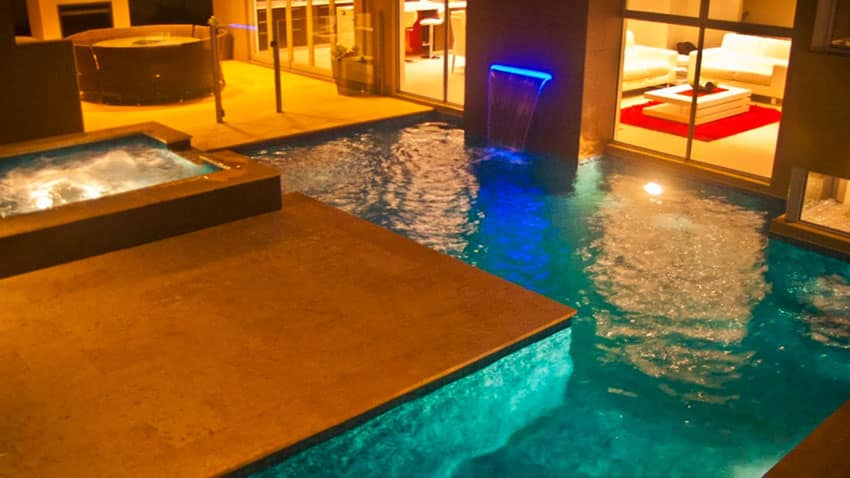 Another modern pool which uses a blue LED-illuminated acrylic sheetfall water feature, which sends water flowing from the column. An elevated spa with spillway creates another place where water can cascade in to the pool for added effect.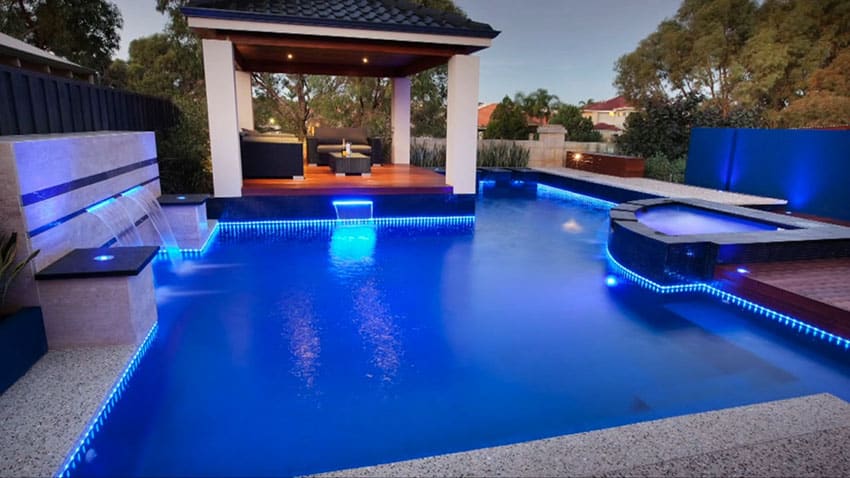 This LED-illuminated acrylic sheetfall water feature was placed around certain elevated areas around the pool, giving the water flowing down a stunning glowing effect. An elevated hot tub overlooking the pool allows bathers to enjoy the well designed scenery.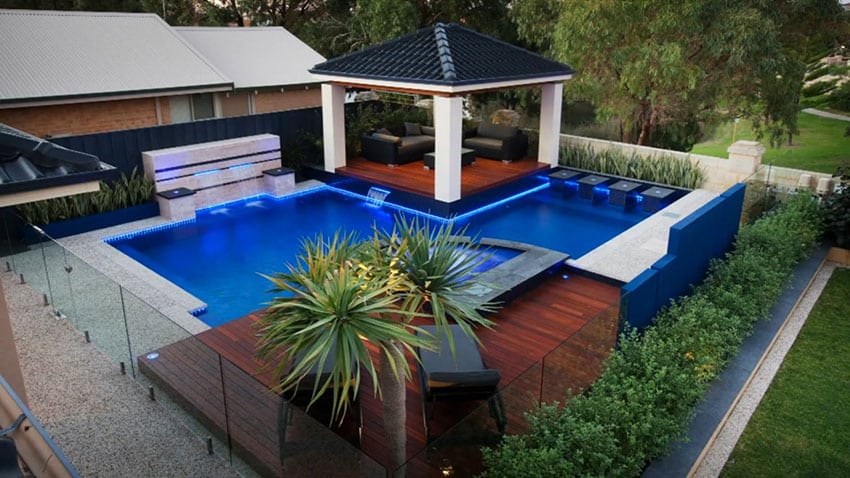 From this angle of the pool one can see the elevated wood deck with its lounge chairs and tropical plants. Another wood deck with gazebo sits in the opposite corner with stylish dark color modern furniture.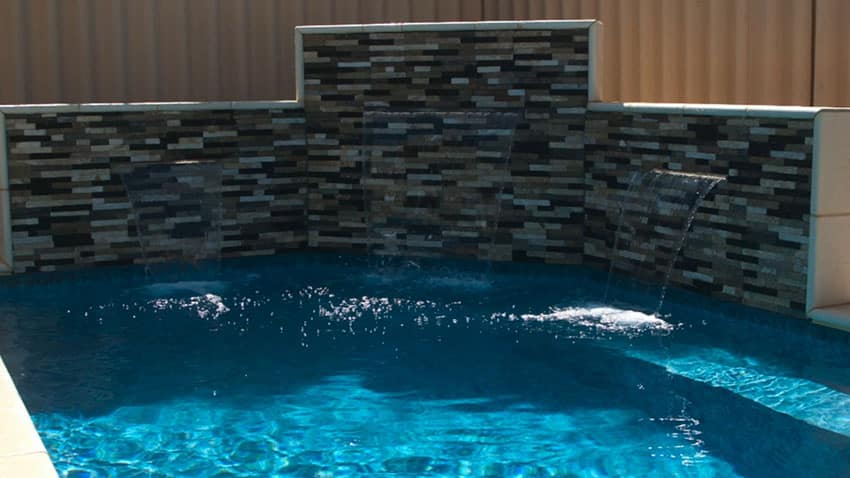 Sheetfall water feature helps add a simple yet elegant element to your pool design. This example uses three water curtains at the corner area of the small pool.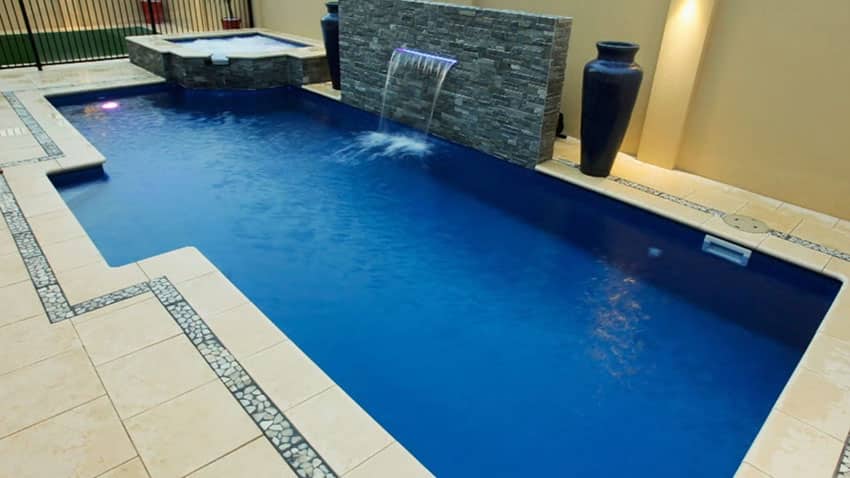 This is another sheetfall water feature which sends water sprouting from a built-up low wall clad in faux slate at the side of the pool area.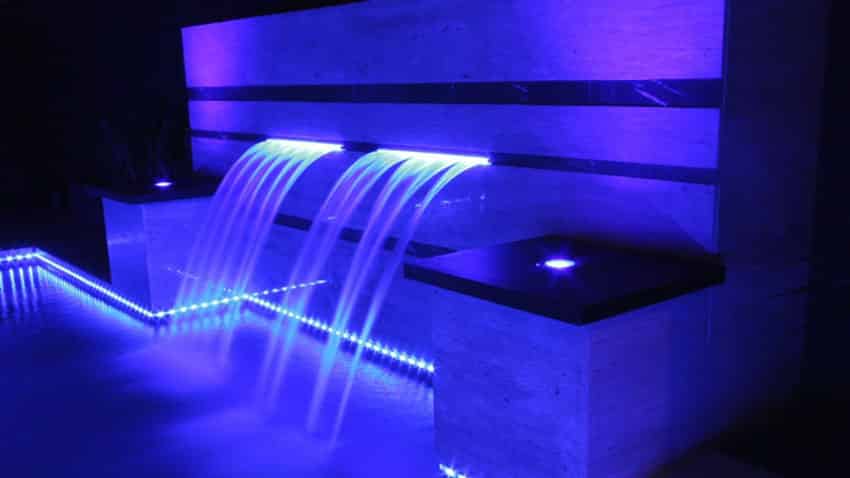 The LED lights in this sheefall water feature gives a bold and futuristic effect to this modern pool area.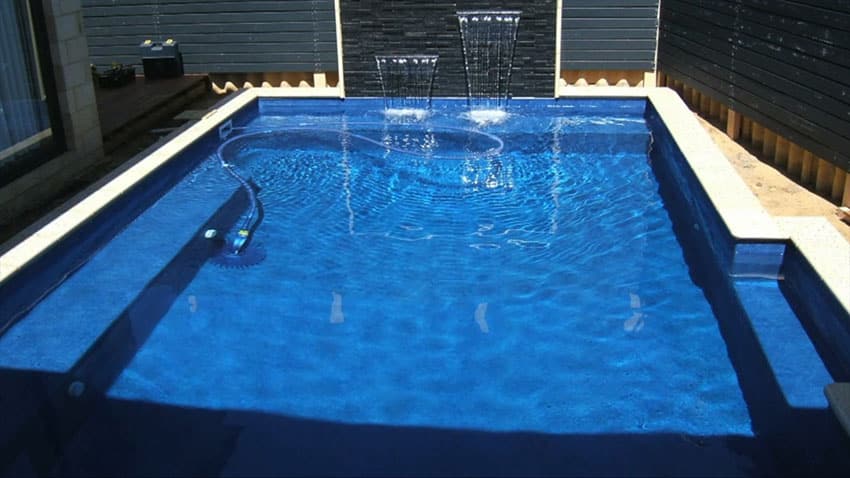 Limited space means only a small and simple water feature can be added. This example uses 2 sheefall features on a built-up wall placed against the fence.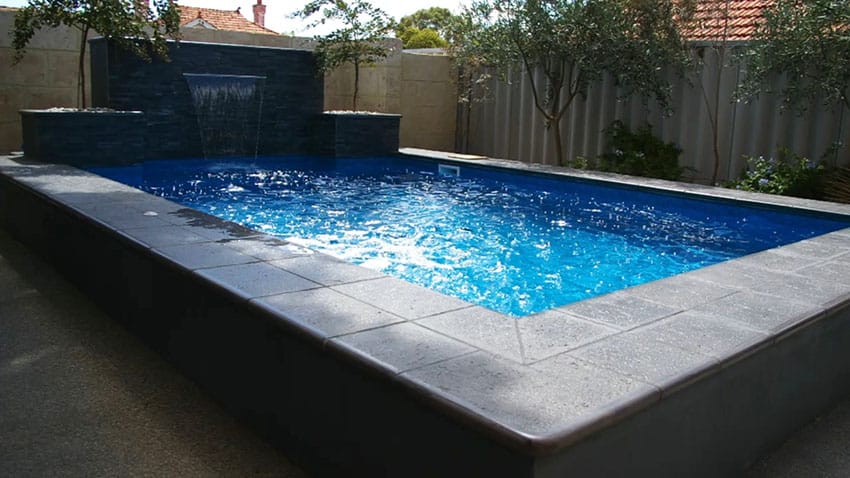 A cascading curtain water feature placed at the end of the pool area where there is a built-up plant box clad with faux black slate, giving it a modern appeal.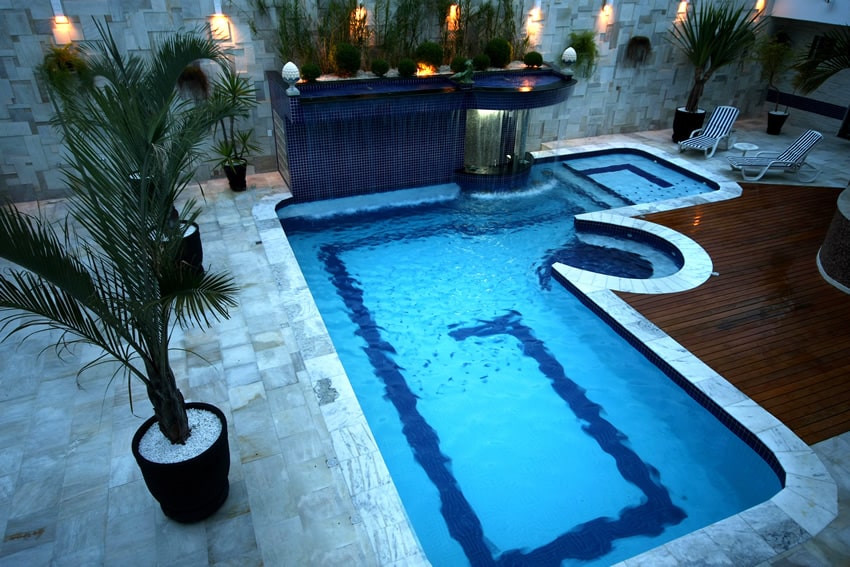 This luxurious swimming pool with mosaic tile spillway provides a dramatic flow of water from above. The cascading curtain of water creates an alluring backdrop that heightens the ambiance of the pool area. With its gorgeous pool, wood deck surround, tropical potted plants and illuminated stone wall this is an ideal backyard retreat.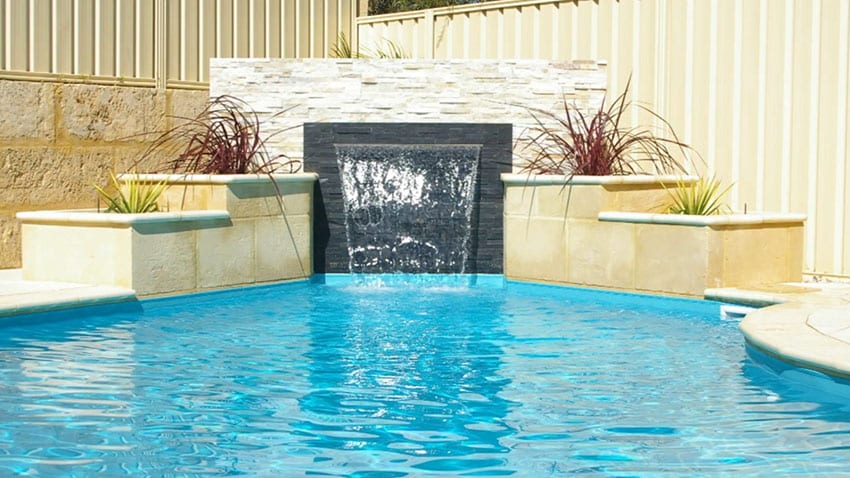 This small waterwall water feature adds a simple yet elegant element in this modern Mediterranean pool. The dark stacked stone of this water feature against the lighter stone adds contrast and depth to the space.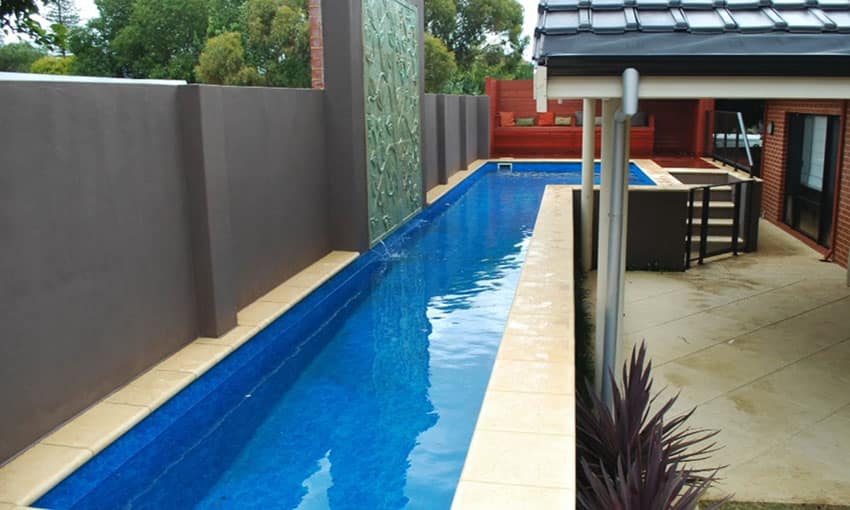 What's unique about this waterwall feature is that right above the flowing water, is a very large relief sculpture which helps add emphasis to the pool area.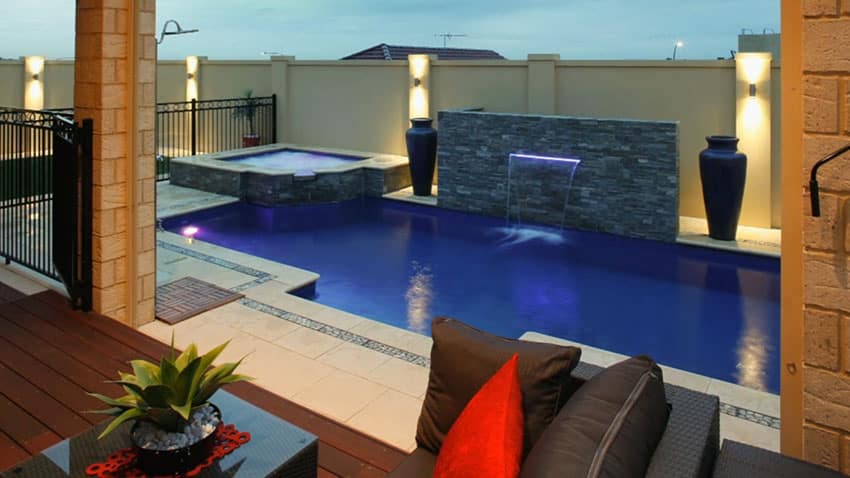 Another modern sheetfall water feature placed on a built-up ledge, and lit with LED to give it a glowing effect at night. Outdoor furniture with comfortable cushions beacons visitors to enjoy this inviting pool area.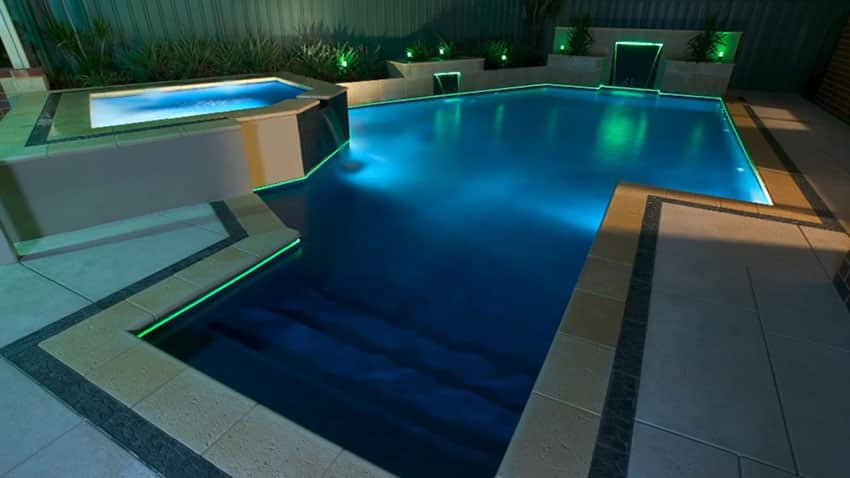 This modern pool area uses 2 sheetfall features placed on the side plant boxes and scupper which directs overflow of Jacuzzi to the main pool. Dramatic neon lighting adds a resort like feel and enhances the feel of night time swimming.
Attribution:
Related Outdoor Living Design Galleries You May Like:
Beautiful Pictures of Swimming Pools – Deck Design Ideas – Outdoor Fire Pit Ideas – Garden Water Features – Luxury Pool Designs