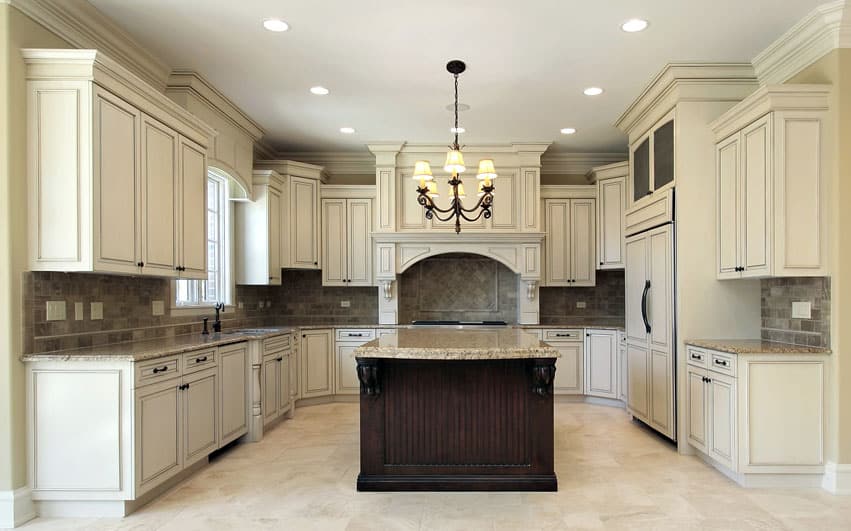 Below we'll cover how to paint kitchen cabinets to look antique. Antiquing kitchen cabinets can add some charm and warmth to your kitchen by giving it a rustic shabby chic vibe. "Aged" cabinets make your kitchen look and feel more lived in – they give the impression of having seen many happy meals prepared and eaten. Adding an antique finish to reinvigorate your old outdated cabinets and give them a new look you'll love.
The antiquing process entails that you apply a glaze to your cabinet door. While you can apply the glaze directly to the cabinet door, there is a richer effect if you first add a new base color to your cabinet door. (You can see more kitchens with antique white cabinets here.)
Choose your antique stain shade according to the cabinet's base color. If the base color is white or cream, use a mid-tone stain. If the color is honey or caramel in tone, use a medium or dark stain. If it is dark, use the darkest stain you can find. The higher the contrast between the stain and base, the more vintage the look of your cabinet.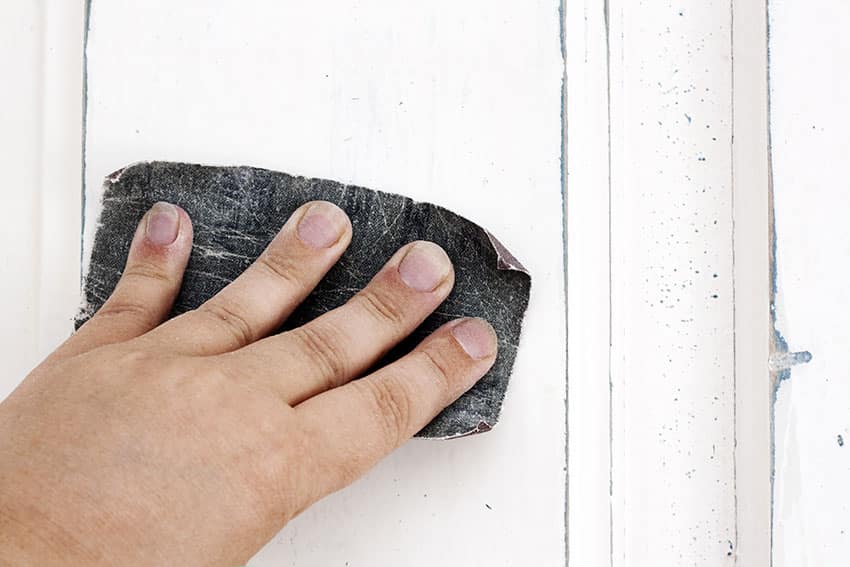 After choosing the stain, you are now ready to antique your cabinet. Follow along with the steps below:
Prep the doors
Materials needed:
• Rubber gloves
• Cotton rags (dry, clean, and smooth)
• Sanding block or electrical sander
• Sandpaper (We recommend 100 to 220 grit paper)
TIP: You can either leave the doors up or take them down for staining, whatever is easier for you.
1. Clean – Dampen some cotton rags and wipe the cabinet faces to remove any surface dirt. Then, wipe completely dry.
2. Sand – Smooth down the cabinet surface until the wood underneath looks dull. Clean the door again removing all trace of sawdust.
Optional: If you are changing the base color, do so after you have sanded the doors. Then let dry.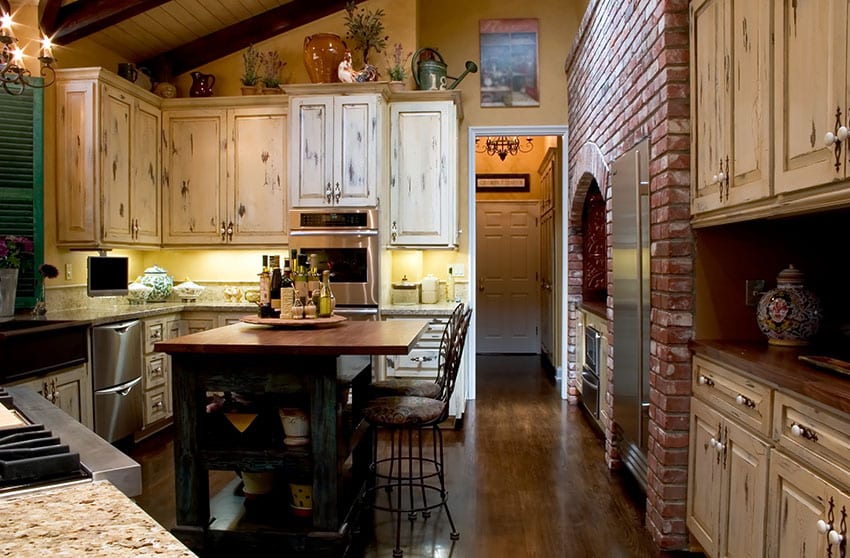 Antiquing the door
Materials needed:
• Rubber gloves
• Cotton rags (dry, clean, and smooth)
• One or two small paint brushes
• Antique glaze
There are two ways to apply glaze to a cabinet door.
1. Using rags – Apply a small amount of glaze to the rag. Apply the glaze to the door in small circular motions.
TIP: After coating the door, gently wipe across in an up-and-down or side-to-side motion. Smooth out the circular marks
2. Using a paintbrush – Dip a brush into the glaze, wipe of excess. Brush glaze onto door by going in the director of the wood grain.
TIP: Use a rag to wipe off portions of the applied stain; this will result in discolorations that will help the wood look worn not too dark and "fake".
Finishing the stain
Materials:
• Rubber gloves
• One or two small paint brushes
• Cotton rags
• Antique glaze
• Wood sealant
Add more antique glaze to the edges of your cabinet doors. Wrap a rag around your index finger and wipe off any excess glaze. Let glaze dry for 24 hours. Apply a light coat of wood sealant.
OPTIONAL: Before the glaze dries completely, you can "distress" the doors by lightly sanding it. You can also take a hammer or small chisel to create dents on the wood.
Watch the Video on How to Add an Antique finish to Kitchen Cabinets
Related DIY & Kitchen Design Galleries You May Like:
  Antique White Kitchen Cabinets – Install Tile Backsplash – Reclaimed Wood Kitchen Islands