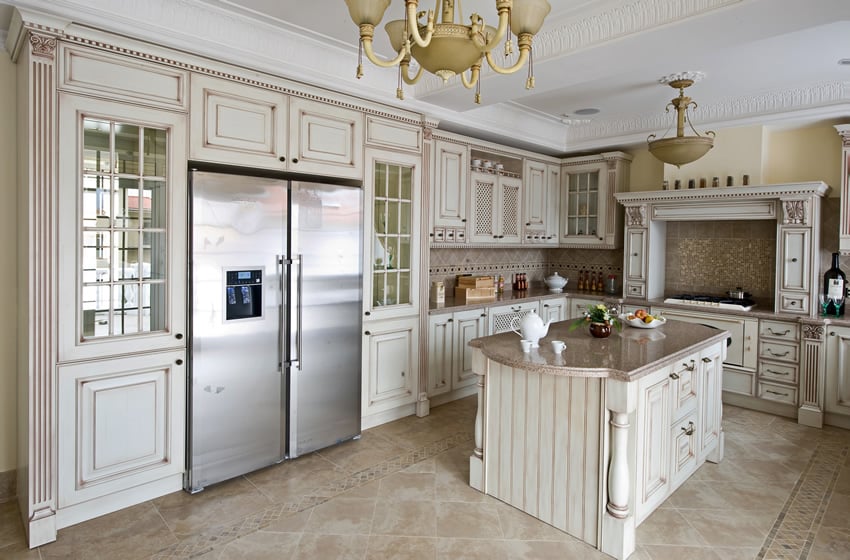 A classic cooking corner: The L-shaped kitchen design. L-shaped kitchen designs are a classic for a reason – it's cunningly shaped to make the most of even a small cooking area. With a work space made up of two adjoining walls perpendicular to one another. As it only requires two adjacent walls, it is great for a corner space and very efficient for small or medium spaces. An L-shaped kitchen also presents a natural "kitchen triangle" from which a cook can work quickly and efficiently.
In the picture above a large L-shape kitchen features classic design aesthetics and Neo-classic details combined to create an elegant look. It has beige Tuscan tiles for its floors and the backsplash which complements the antiqued off-white cabinets. The countertop material is brown granite with a tone similar to the backsplash tiles. There is also gold mosaic tiles for the range cooker backsplash area, giving it a little more highlight.

L Shaped Kitchen Layout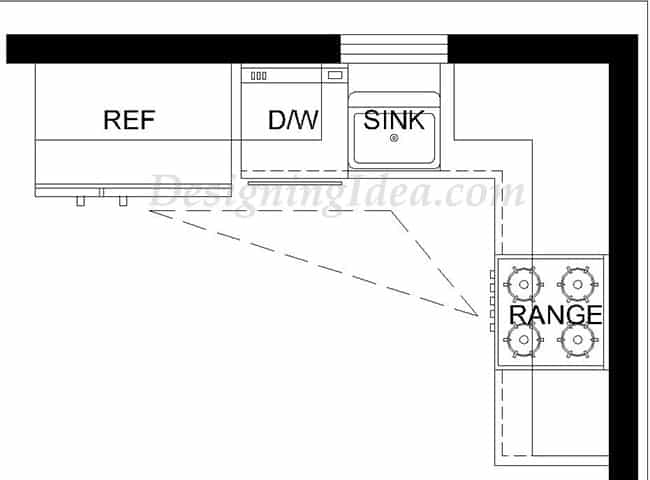 Here's an example of an l shaped kitchen layout:
The idea behind a kitchen work triangle is to place the three most common work sites at the most efficient distance apart to minimize traffic through the work zone.
These three areas are the cold storage area (refrigerator), the cleaning/ prep area (the sink) and the cooking work site (stove).
Typical L-shaped kitchen designs perfectly encapsulate the kitchen work triangle. The fridge can be place on one end of a leg, the stove on the other, and the sink in the center. The spaces in between can be given over to counter tops and storage space.
This design is great for open plan living as it can easily open up to another room. A great way to have an L-shaped kitchen is to have one leg be a continuous wall while the other is an "open" wall that can incorporate a counter or island that looks out onto the dinning or living room. This allows for a more breathable space that can creates a flow between different areas of the home.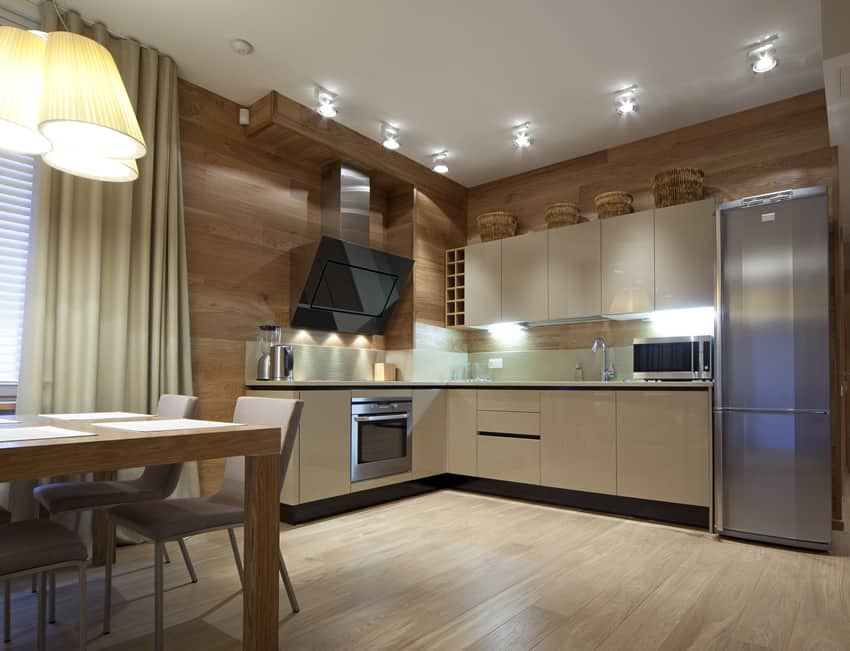 This kitchen may be small, but it doesn't fail to deliver in terms of design. While wood finishes are usually found on floors on kitchen cabinets, this kitchen design uses the Golden Walnut wood on its walls instead, giving a nice contrast to the bleached oak flooring. The kitchen cabinets are laminated in a light-beige high-gloss laminate and topped with beige resin countertop. it also features integrated under-cabinet lighting and compact appliances perfect for the size of the space.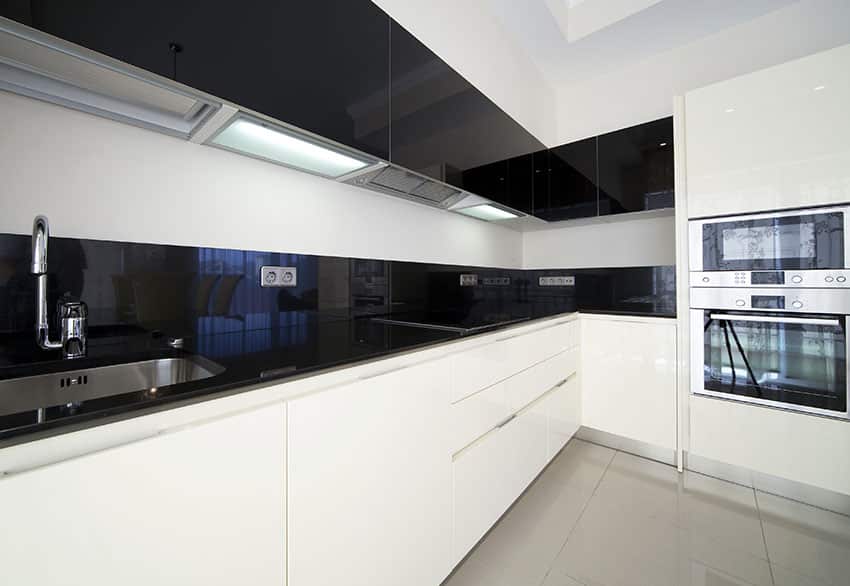 A modern l shaped kitchen layout with high gloss upper black cabinets, a solid surface black counter and high gloss lower white cabinets make a big impression. This ultra sleek kitchen design is light and bright with a large skylight over head and silver appliances and hardware.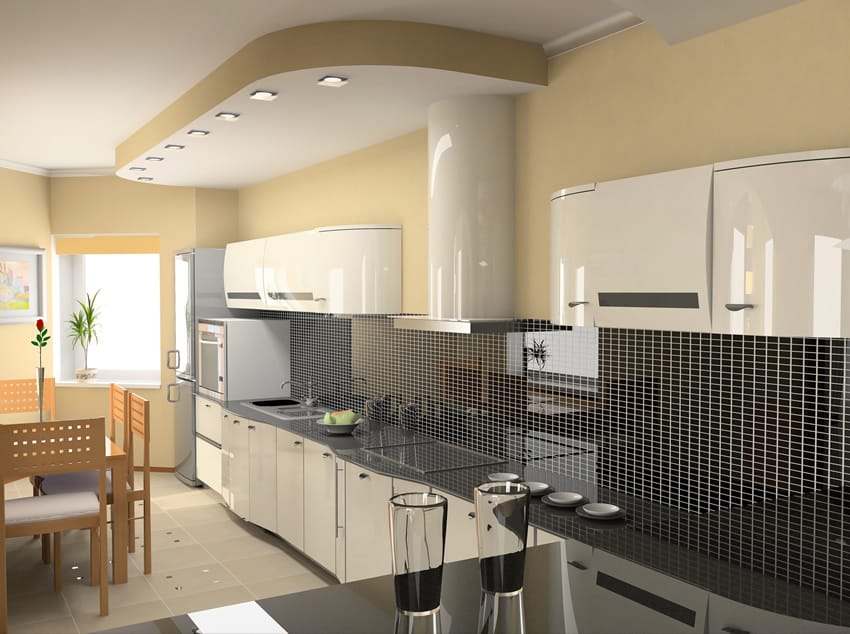 A kitchen design which gets creative with its use of curved cabinets which are finished with high-gloss white laminates. This kitchen has a futuristic appeal, especially due to the use of the bulbous overhead cabinets. For its countertop, it uses a simple and plain gray solid-surface and combines with black mosaic tiles for the backsplash.
L Shaped Kitchen Layout with Island
L shaped kitchen designs with an island are very effective due to their layout. When properly set up everything should be in easy reach, with extra surface area on the island for food preparation or eat-in dining.
A modern kitchen design which has a unique combination of colors. The sky blue walls provides a cool and soft-looking background for the Teak-laminated cabinets. It also has a kitchen island from built-up ficem board which is painted in the same sky blue color as the walls and topped with granite stone.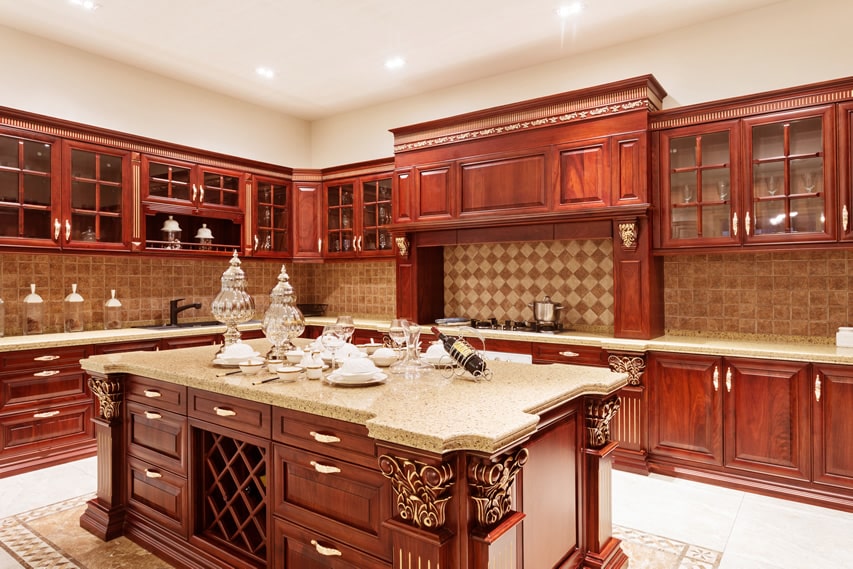 Another classic kitchen design which can be a little intimidating because of its size and the elegant choice of materials. It uses solid Red Mahogany cabinets with neo-classic details painted with gold. The beige quartz coutnertops help balance off the redness of the wood, while the tuscan backsplash tiles gives the space more texture.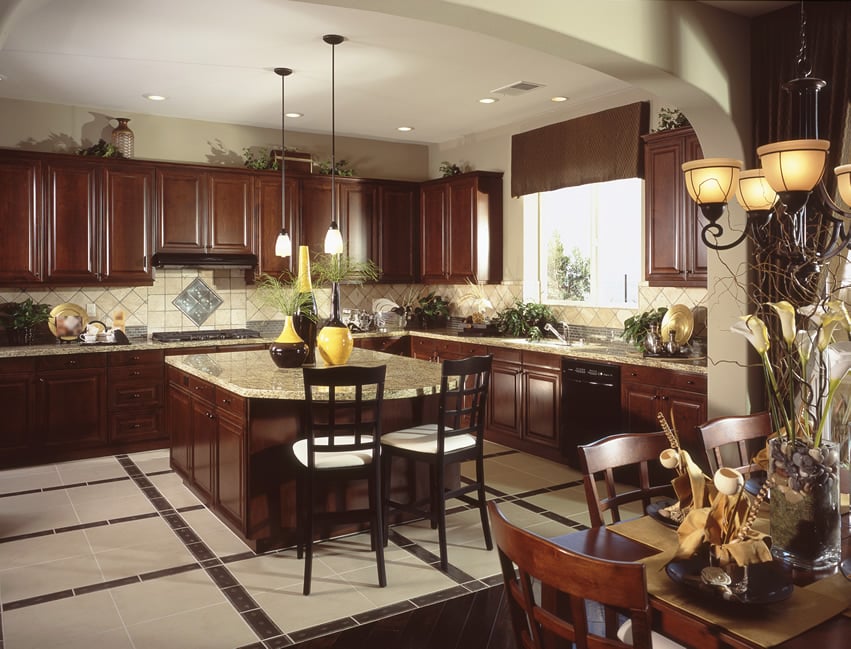 This modern kitchen draws its inspiration from traditional kitchens, and uses dark mahogany-stained solid wood cabinets combined with a gorgeous slab of stone for its countertop. It has a kitchen island in the middle with the same finishes as the main cabinets and uses light beige backsplash tiles and white floors to off-set the dark wood tones.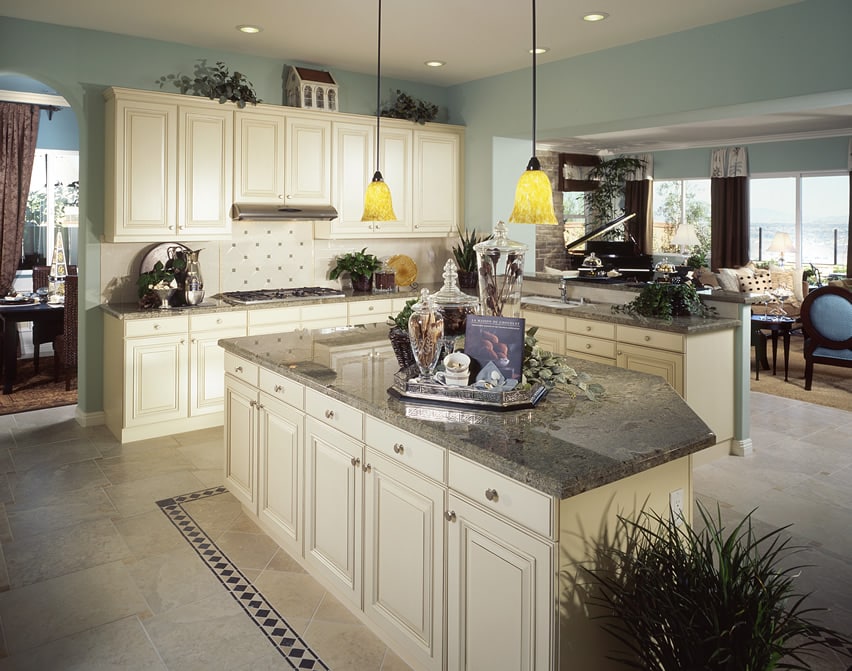 The mint-painted walls of this kitchen provides a cool background for this traditional-style kitchen, giving it a more feminine appeal. The paneled cabinets are in a off-white shade and topped with a thick slab of gray granite. Also noticeable is the unique-shaped kitchen island which gives this space more cooking area and more personality.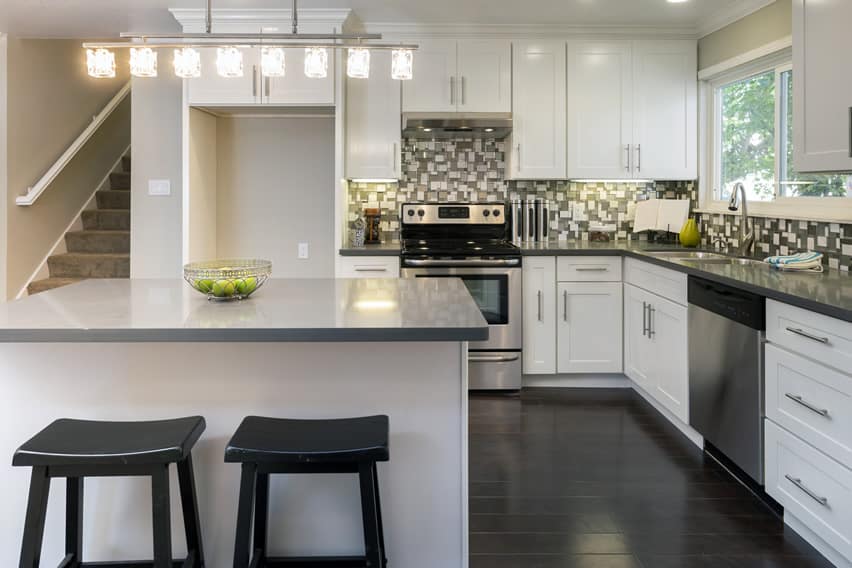 A modern L-shaped kitchen design with simple off-white paneled doors and gray solid-surface counters. It uses gray and white glass mosaic tiles for its backsplash to match with the cabinets and countertop, and it also features a large square kitchen island, providing additional work surface and dining space.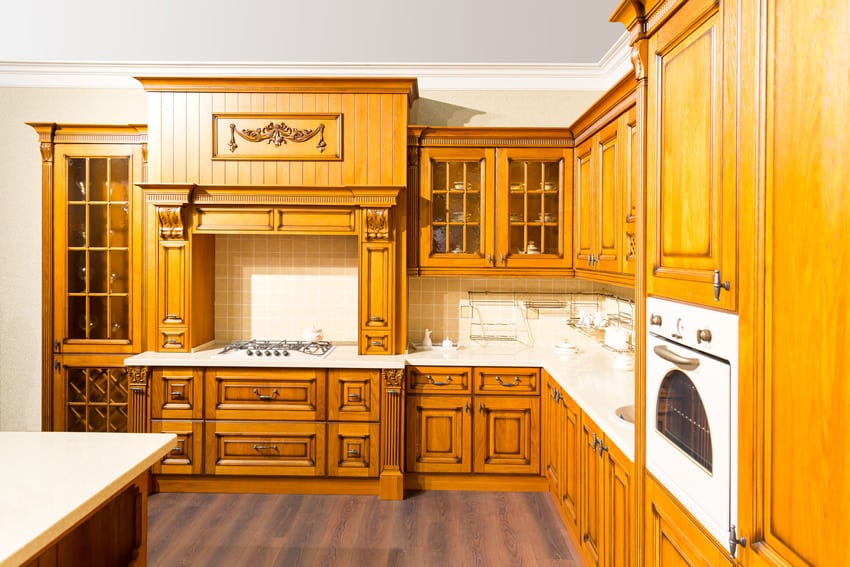 Another traditional style L-shape kitchen with heavily paneled cabinet doors and intricate neo-classic details. The orange tone of the wood stain gives the space a bright warm glow, which is neutralized with the use of white quartz countertop and the light beige walls. It has integrated the appliances into the cabinetry and also features a wine cabinet.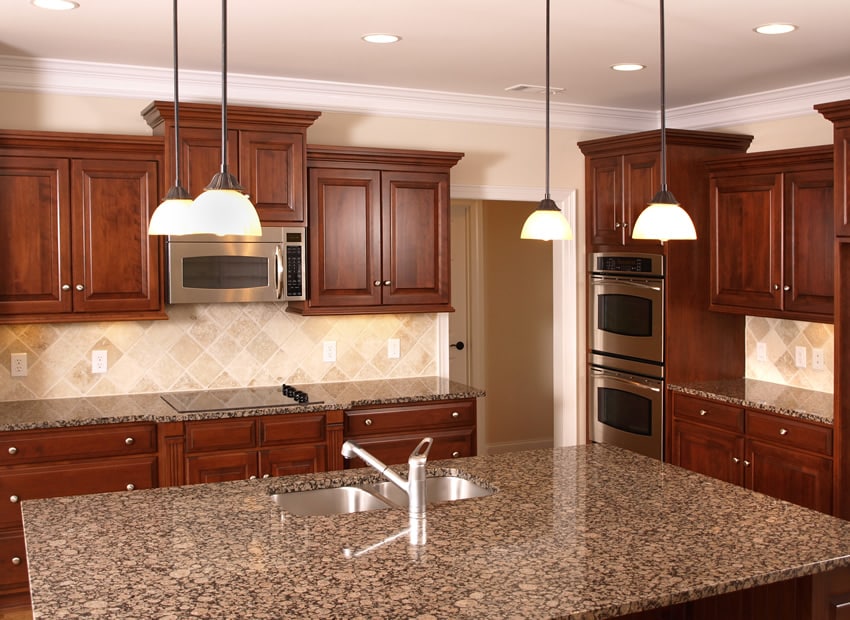 This simple kitchen stains its Beech wood cabinets in a red Mahogany stain, giving it a subtle gorgeous sheen. The countertop material is granite with pink and dark gray tones, while the backsplash uses light beige classic Tuscan tiles, giving the space added texture and classic appeal.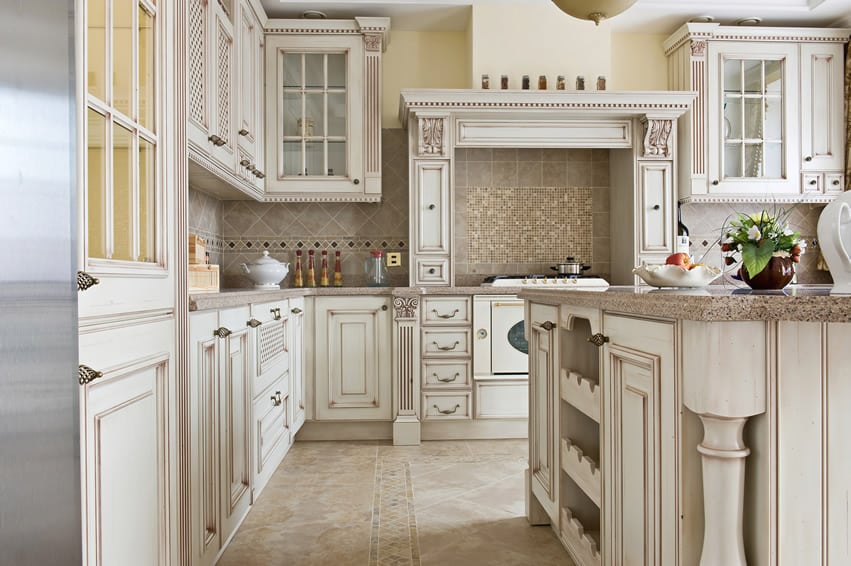 This is another view of the first kitchen feature in this article. From this angle, you will see the integrated wine rack found under the kitchen island counter and a more close-up view of the antiqued finish of the solid wood cabinet doors. You will also notice the classic brass pulls which perfectly complements the design of the kitchen.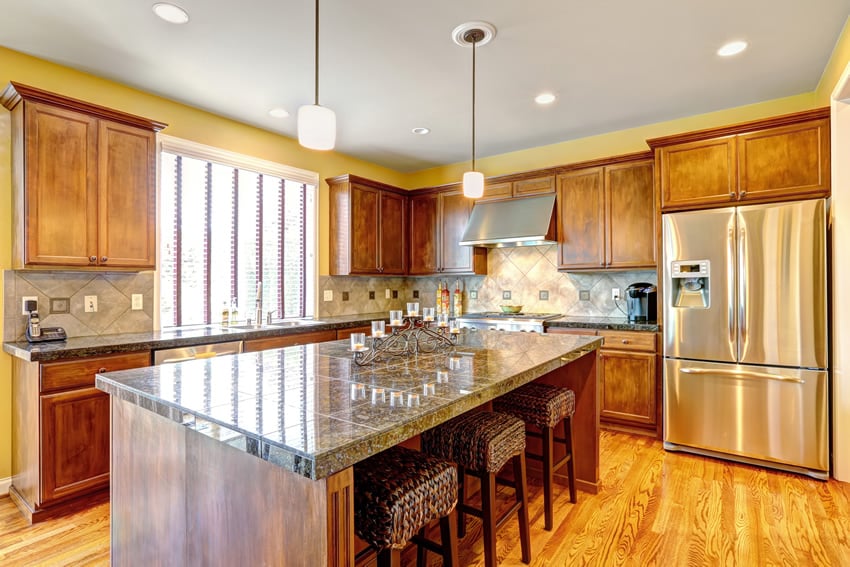 This L-shape kitchen design combines two wood tones to achieve this look. For the floors, it uses a golden oak floors, giving the space a yellow glow to match the yellow walls. The ktichenc abinets, however, uses a more orange wood tone. To counter the bright warm colors, it uses gray ceramic backsplash tiles and dark gray stone tiles for the countertop.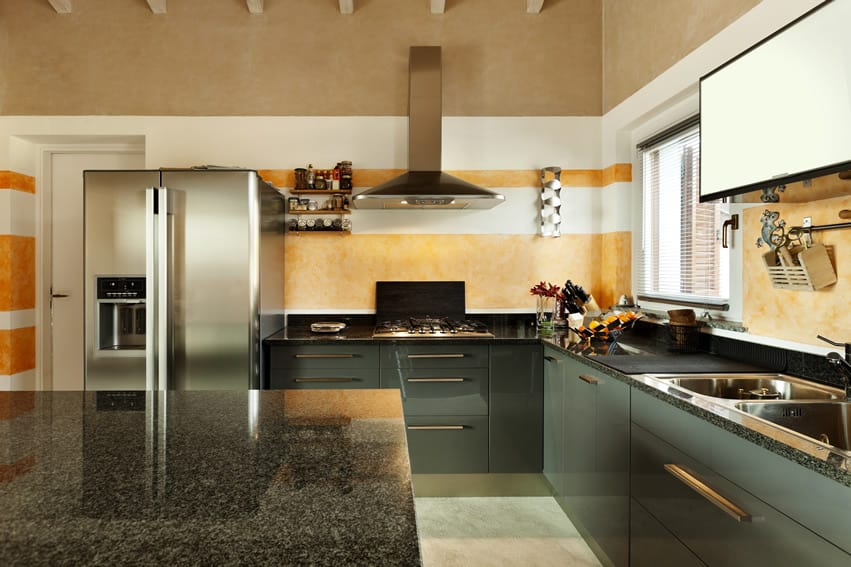 A modern modular kitchen design featuring cabinets finished in high-gloss teal laminates with stainless steel hardware and a gorgeous slab of black galaxy granite countertop. For the walls, it uses a unique combination of wall paints, with a white base color, brown rag-rolled paint for the upper wall and yellow-orange rag-rolled paint for the horizontal stripe patterns.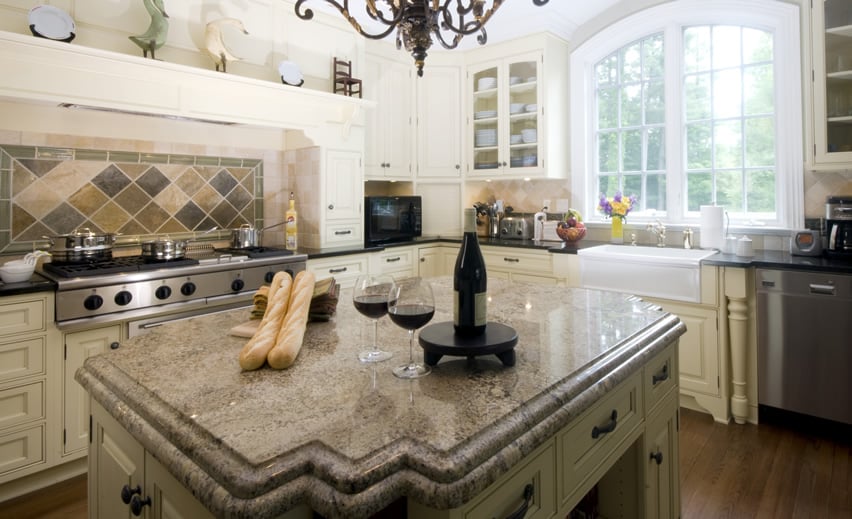 Another classic style kitchen with off-white paneled cabinets which amplifies the classic beauty of traditional kitchens. It uses black granite counters for the main kitchen cabinets and a thick slab of purplish granite for its kitchen island.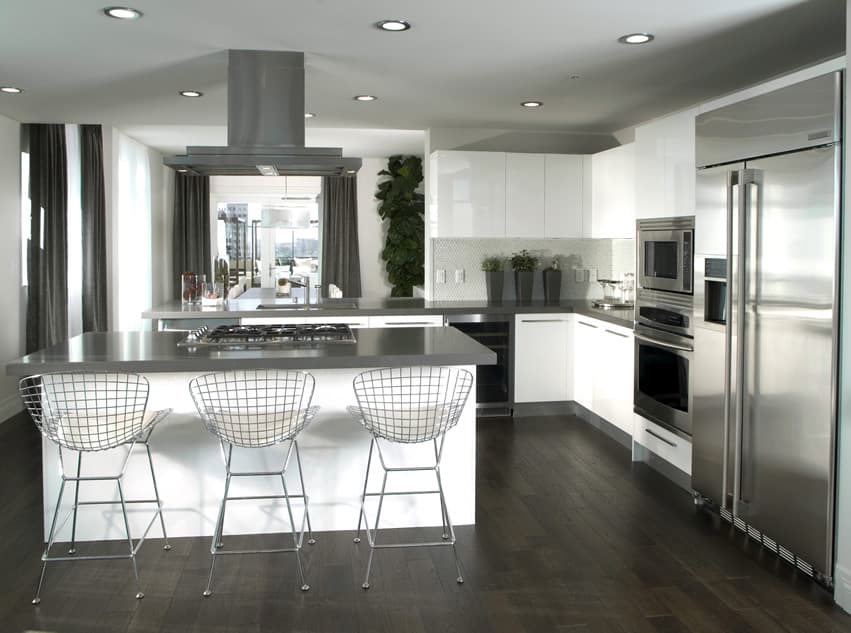 A modern kitchen design with minimalist aesthetic and a simple gray and white color scheme. All its cabinets are laminated in white, with a stainless steel kickspace and white mosaic tile backsplash. For the countertop, it uses a gray solid-surface material providing a seamless countertop surface.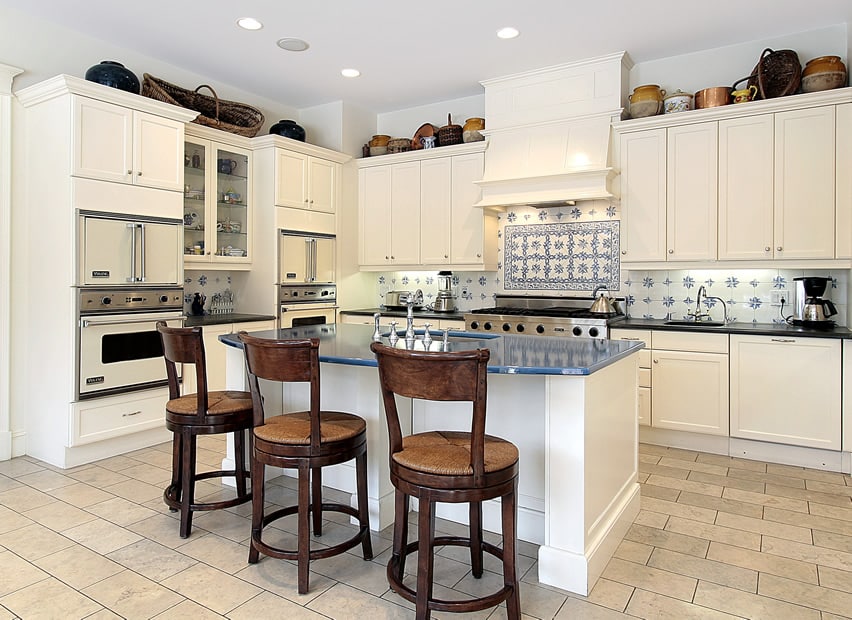 Drawing inspiration from Blue and white china, this modern kitchen boasts of classic elegance. It has gorgeously finished white cabinets in an elegant matte finish combined with black granite counter and blue and white ceramic backsplash with floral patterns reminiscent of blue and white chinaware. To take the inspiration to the next level, instead of using the same black granite countertop for the kitchen island, it instead uses blue solid surface, making the kitchen island an accent piece in itself.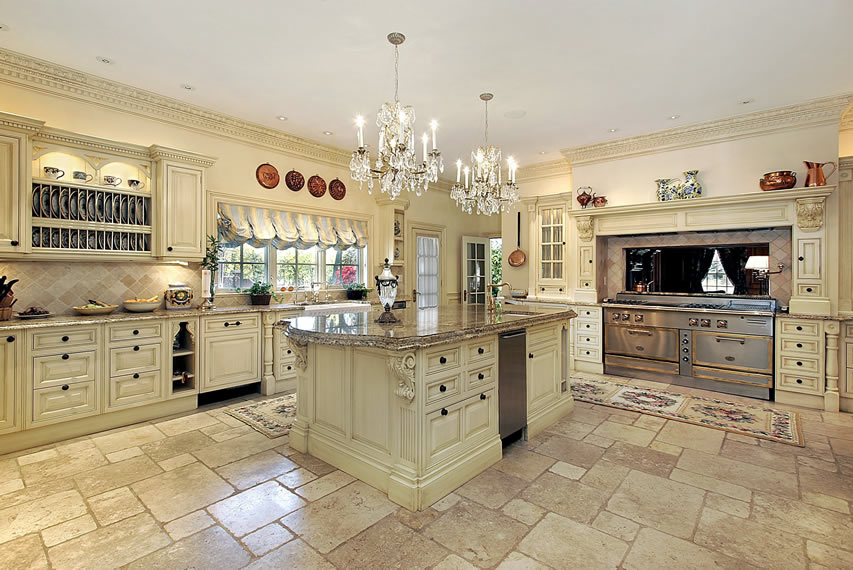 A large L-shape kitchen with the grandeur and elegance of classic kitchens, but equipped with modern appliances. It uses natural cream-colored stone tiles for the floors, and off-white cabinetry with classical Corinthian detailing. On top of the counters are granite stone, while the ceiling uses 2 crystal chandeliers, adding more elegance to the kitchen space.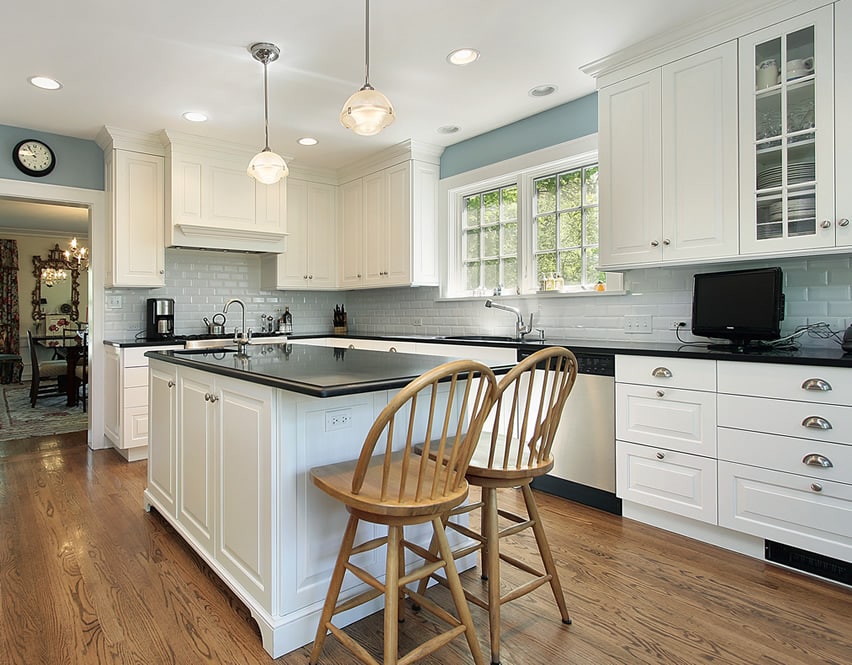 Small L-shape kitchen designs look bigger when they are designed to be light and bright. This space manages to pull it off thanks to the light blue painted walls and overall lighter color scheme. The cabinets used are all white with paneling details and is topped with black polished granite countertops. For the backsplash, it uses white ceramic tiles in a subway style pattern. A light color wood engineered floor is matched by two wooden bar stools for dining in.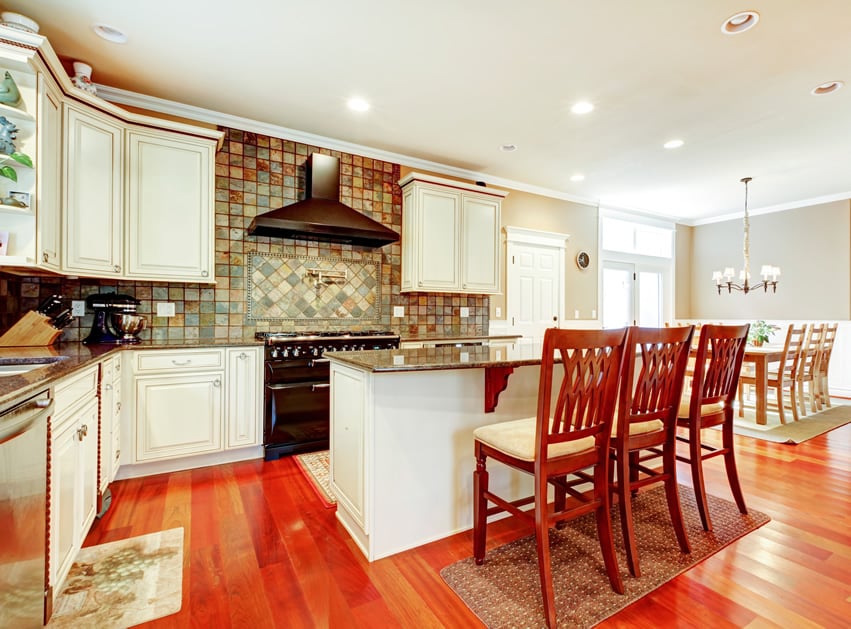 This kitchen design is set against a very bold backdrop of redwood laminate floors. To help tone down the red floors, the kitchen cabinets are of the classic off-white color and topped with a red sienna granite countertop. It also uses mosaic tuscan tiles in green tones to complement the reds of the floor and the bar stools.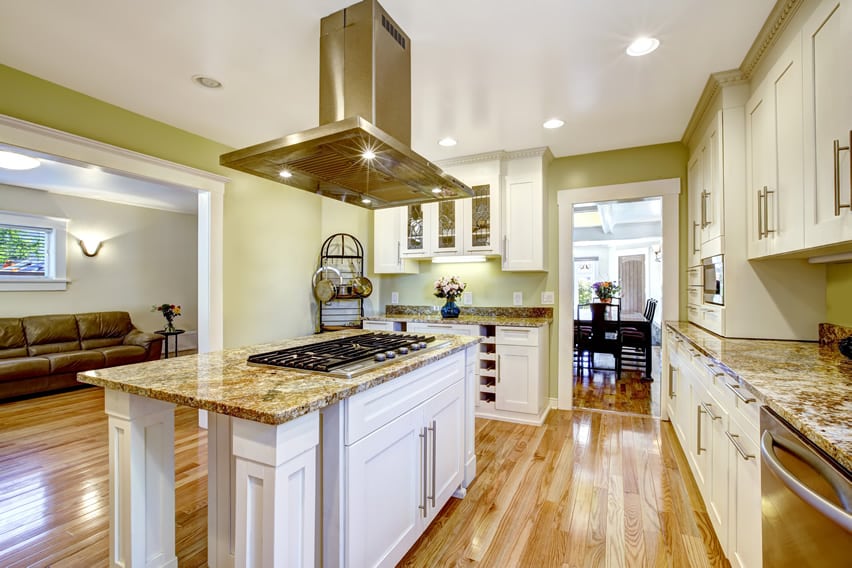 In this picture an average-sized kitchen boasts a great combination of warm tone wood colors. For the floors, it uses Golden walnut which matches the golden yellow granite countertop and the yellow-beige paint of the walls. To counter these yellow tones, the all-white kitchen cabinets allows you neutralize the warm wood tones used in the space.
Small L Shaped Kitchen Designs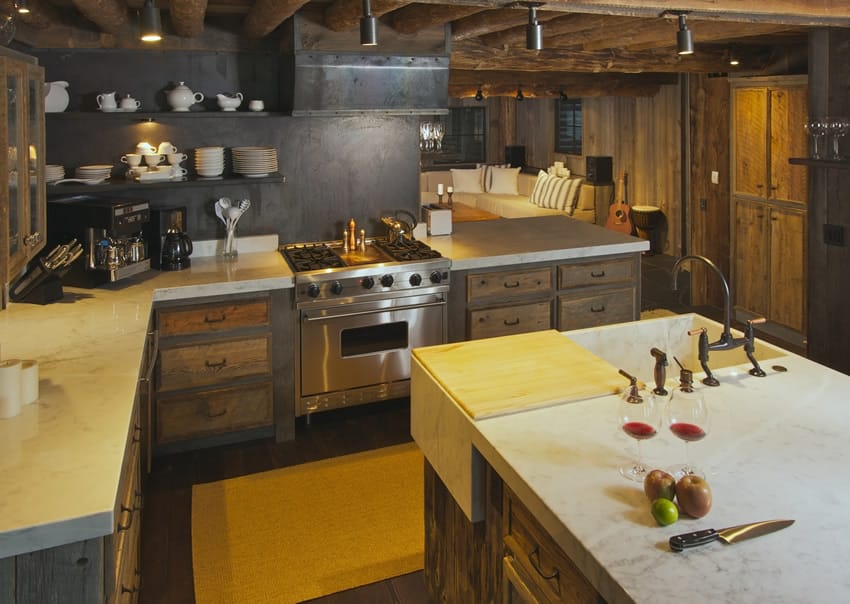 An industrial-style L-shape kitchen which uses natural weathered wood for the drawer faces and white solid surface for the countertop. The gray walls and hammered metal sheet add to the industrial aesthetic of the space, while the exposed wooden beams, warm lighting and wooden butcher's block add a touch of warmth to the space.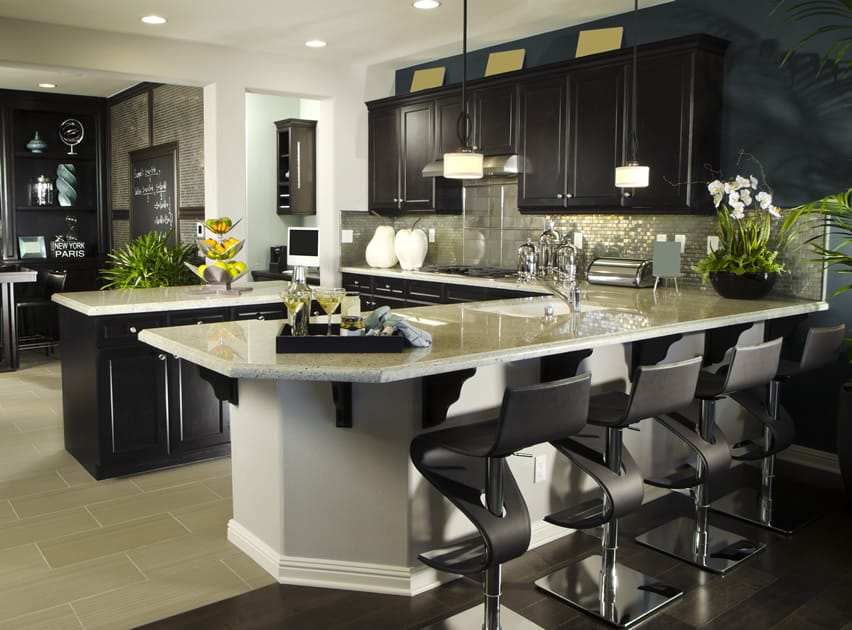 This contemporary kitchen has a large eat-in granite dining bar with modern bar stools. The flooring is a light color engineered wood in a rectangular pattern, while the island and cabinets are stained in a rich dark brown. to add contrast the dining bar is painted white with brown supports for the counter top. A high metal gloss back splash and accent tiles behind the stove top increase the glamour and overall aesthetics.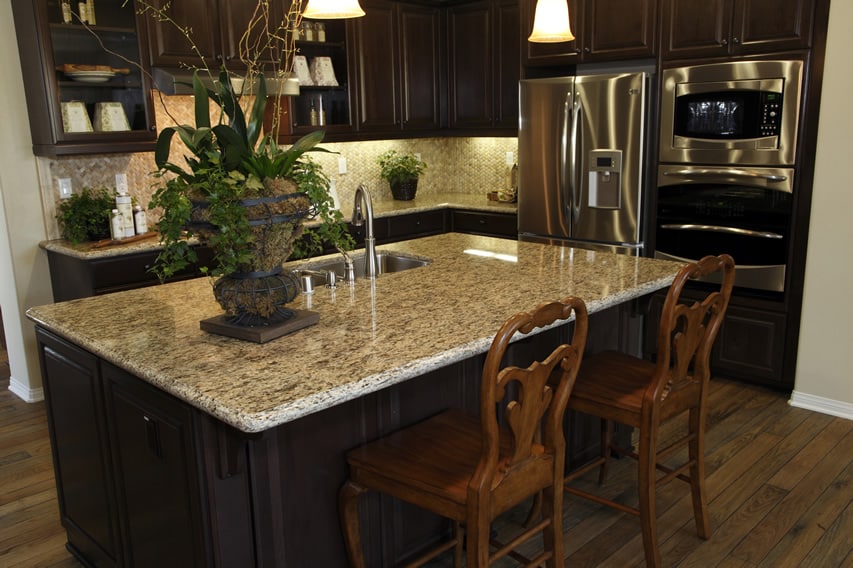 With a limited space, this L-shape kitchen manages to fit in the essentials for an effective kitchen design, and even adding an additional rectangular kitchen island which is able to accommodate 2 diners. The cabinets are of solid wood stained a dark wengue color and topped with a slab of gray granite.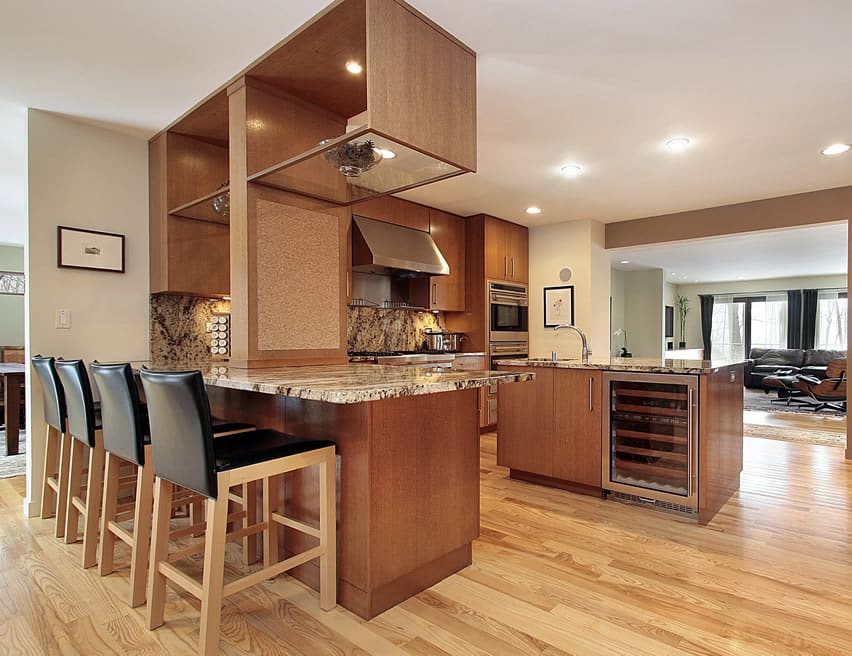 This unique L-shape kitchen uses modular kitchen cabinets laminated in Mahogany and uses a large block of granite countertop which continues until the backsplash. It also features a kitchen island with a built-in wine fridge and a small bar counter area which is able to sit up to 4 people.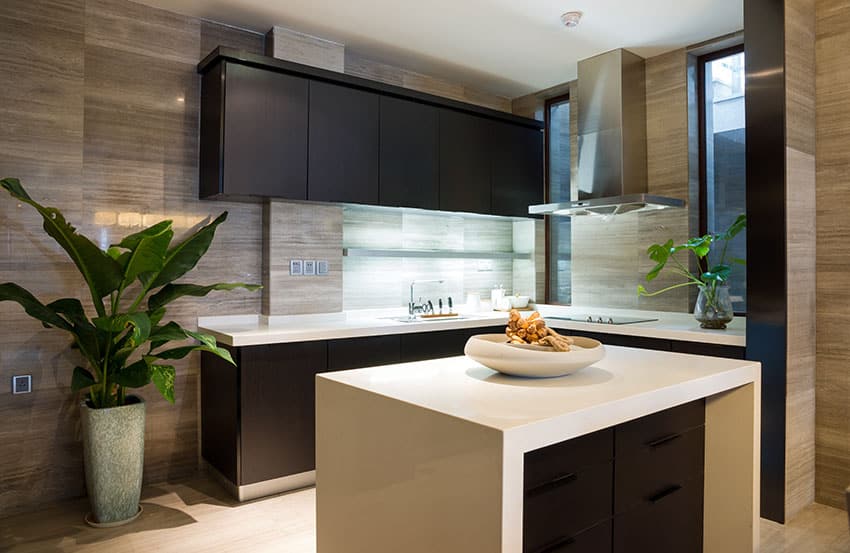 This small modern l shaped kitchen with island has black cabinets with a white solid surface countertop. The walls and floors are clad in a wood grain porcelain tile providing a stylish backdrop. Under island storage provide extra space for kitchen utensils and pots and pans. Two rectangular windows help bring in some natural light to brighten the space.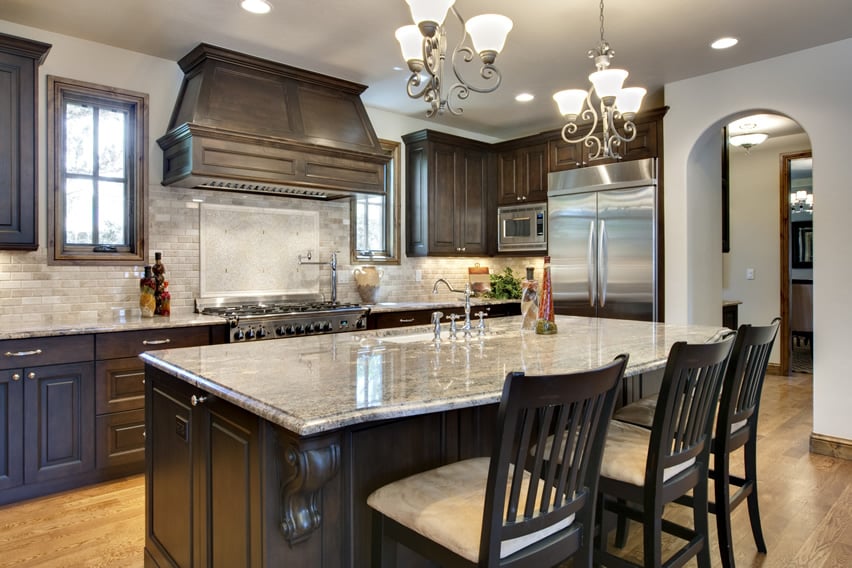 Another classic-style kitchen which is a little limited when it comes to space. For the cabinets, it uses wengue-stained cabinets with paneling and Corinthian details and topped it with a light gray granite countertop. It also uses marble ceramic tiles in a subway tile pattern for the backsplash to match the gray countertop.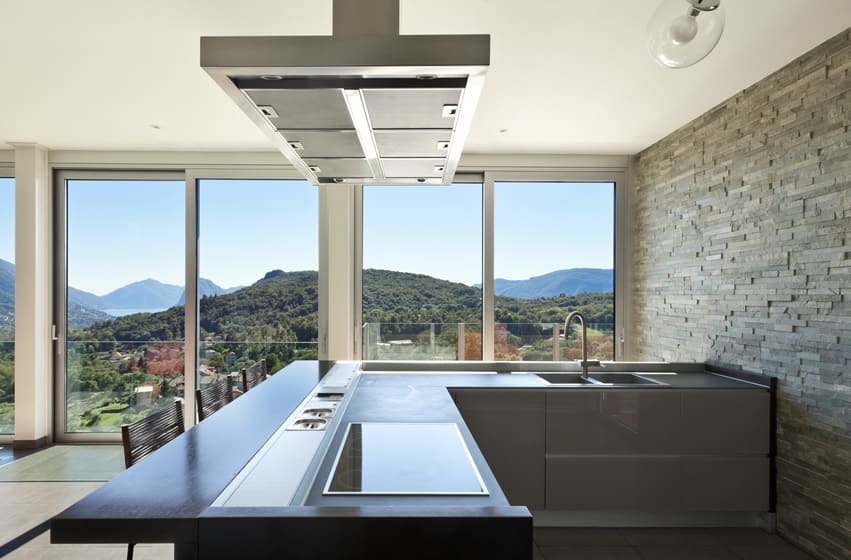 This kitchen is small but what it loses in size it makes up for in its impressive view of the countryside. The space offers a minimalist clean style with polished white cabinets, hidden appliances and low profile stove top built in to a polished wood counter top. The stacked stone accent wall is rich in color and vibrancy and creates an upscale atmosphere.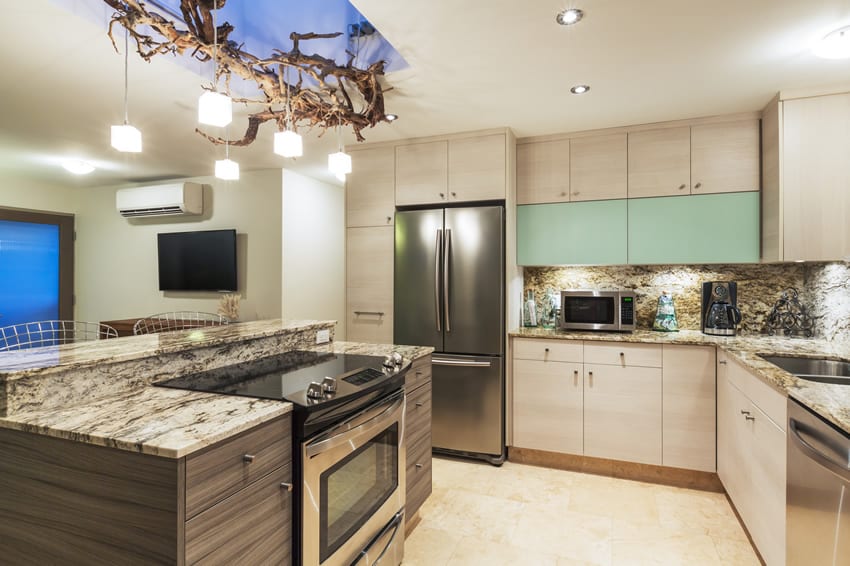 This modern kitchen combines plain finishes with wood tone finishes to give the space a variety of colors and textures. Most of the cabinets are laminated in an off-white color with minimalist cabinet and drawer pulls. Plain mint green laminates were also used as well as dark-stained oak laminate finish.
Related Kitchen Design Galleries You May Like:
143 Luxury Kitchen Designs – Small Kitchen Design Ideas – 77 Custom Kitchen Island Designs – U Shaped Kitchen Ideas