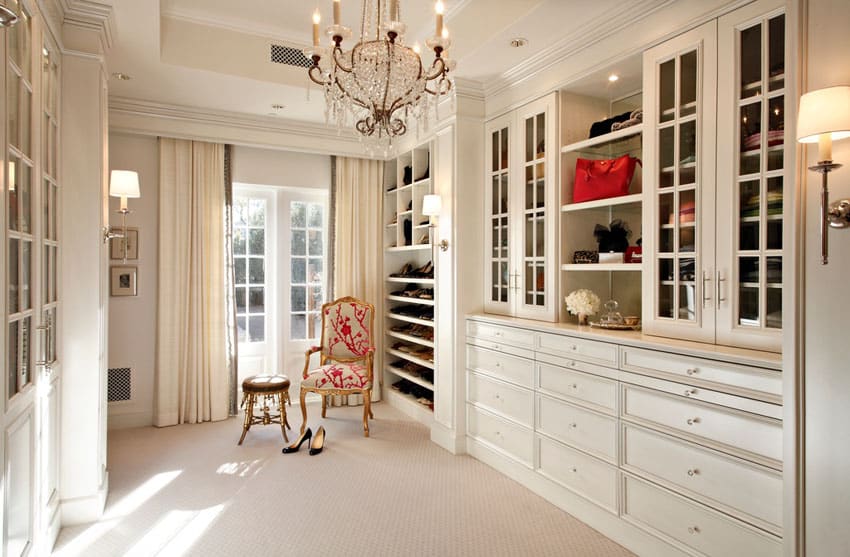 The beautiful walk in closet designs featured in this picture gallery will give you tons of ideas and inspiration. With custom designs and expert layouts a walk in closet can greatly enhance the look of your home and increase its value. From luxurious French designs to contemporary, modern and traditional designs these closets are also the perfect place to start your day.
Elegance of classic French design is embodied in this walk-in closed design. It employs paneling details combined with French cabinet doors with glass. The small crystal chandelier adds more elegance and a feminine vibe into the space as well. It uses an all white color scheme, adding a touch of creams here and there for more variety. It also has mirrors to help visually expand the space, as a large French door leading outside, which also brings in much natural light to the space.
Walk In Closet Ideas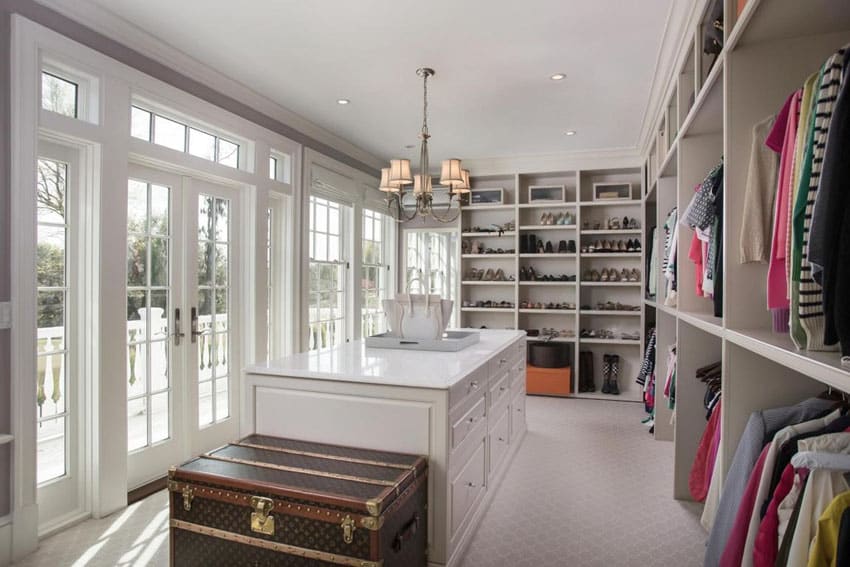 This large walk-in closet has lots of natural light combing in from the full-height doors and windows, making it look really bright and fresh. It uses open-type cabinets and shelves, making the clothes easily accessible, and uses white, to help make the colors of your clothes stand out. At the center of the room is an island counter with additional drawer storage for things like house clothes, underwear, accessories and more.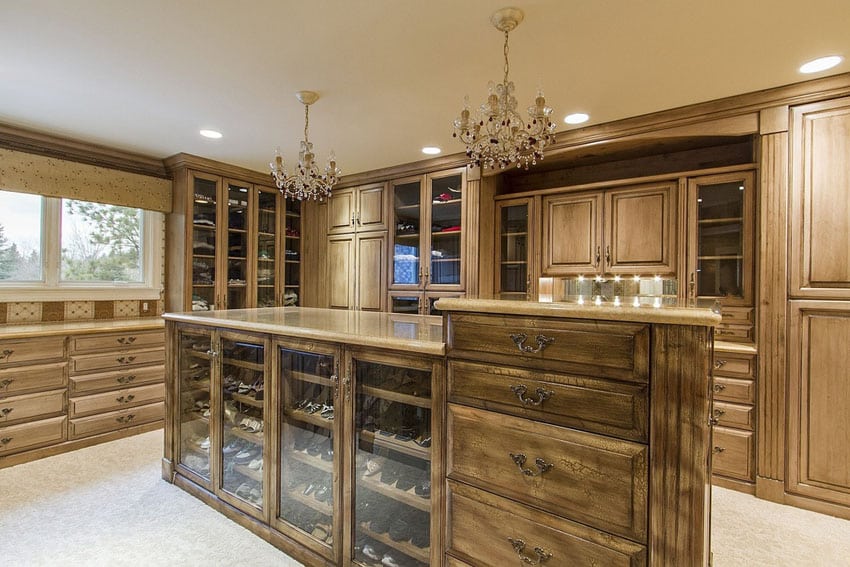 Combining the classic elegance of old world style design and the light and fresh feel of modern aesthetics, this massive walk-in closet successfully provides storage, organization and elegance. Instead of the usual all-white cabinets, it uses solid walnut with matte varnish finish, combining it with glass panels for the cabinet doors to give it a more modern feel. It also uses mirrors to help make the space look bigger, and modern cabinet lights to help you see the contents of each cabinet easily. The closet's two chandeliers supported over the center island give this space a dramatic appeal.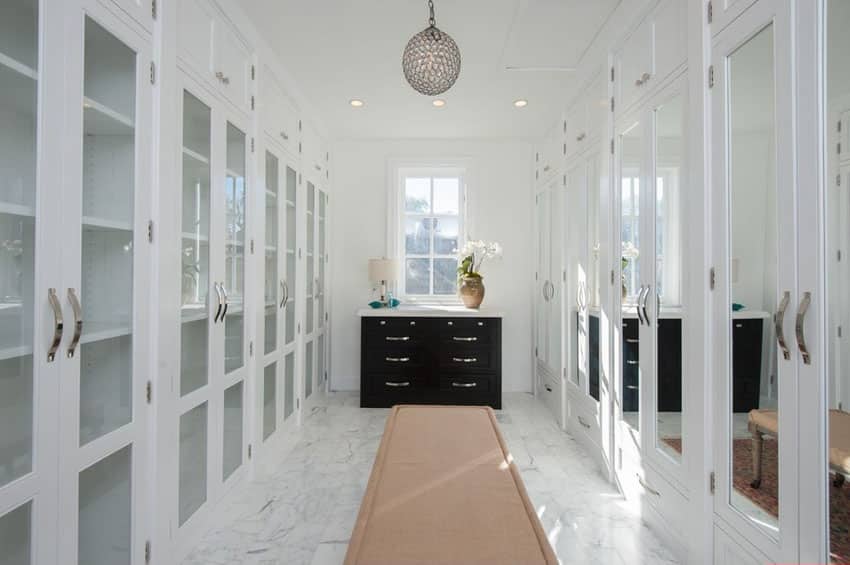 Space was definitely maximized in this walk-in closet design as it successfully uses all available wall space to its maximum, by installing floor to ceiling height cabinets. On the left side of the image, are cabinets with glass panel doors, making you see through the shelves inside for storage. On the opposite side, are panel cabinet doors as well, but this one uses mirrors instead, making the somewhat limited space look bigger.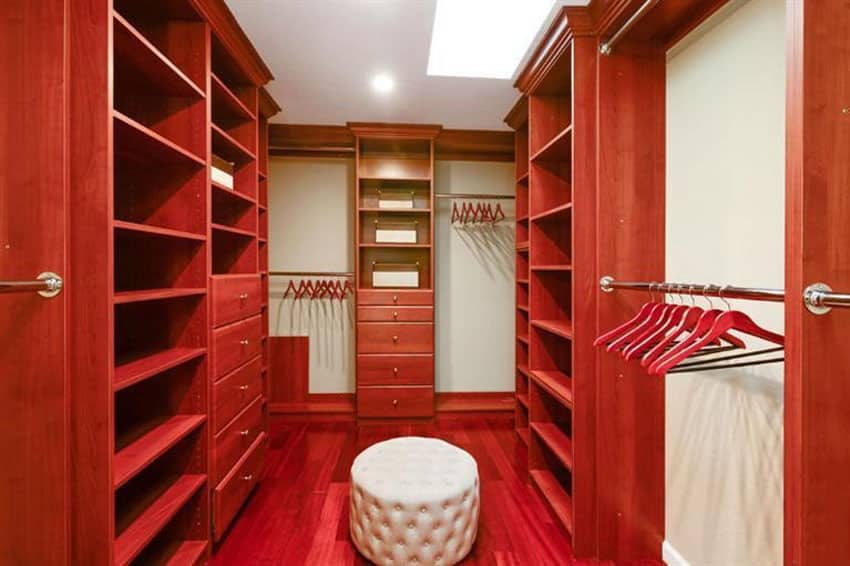 This walk-in closes uses a red-on red combination. Redwood floor boards were combined with redwood cabinets and shelves, creating a bright and bold looking closet. The built-in open closet is made up of a variety of open adjustable storage shelves, drawers and clothes rack. It also has a small ottoman in the middle of the room which is especially useful when fitting shoes and gives the room a more feminine decor touch.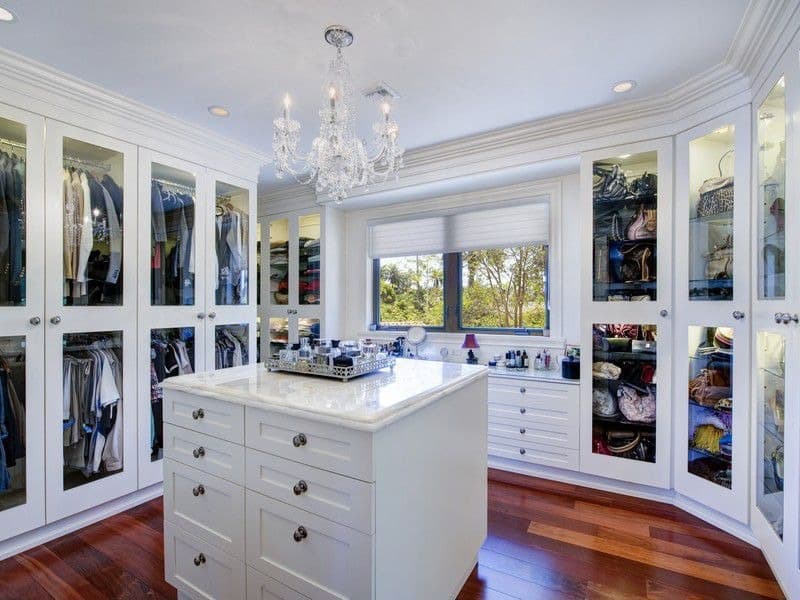 Using solid walnut floors and white cabinets, this walk-in closet exudes classic elegance and modern sleekness. The wall space is maximized with cabinet and shelf storage, kept away from dust through doors with glass panels, which helps you determine what cabinet to open. In the middle of the closet is a square island counter with more drawer storage and a marble top in which the perfumes and other items are displayed.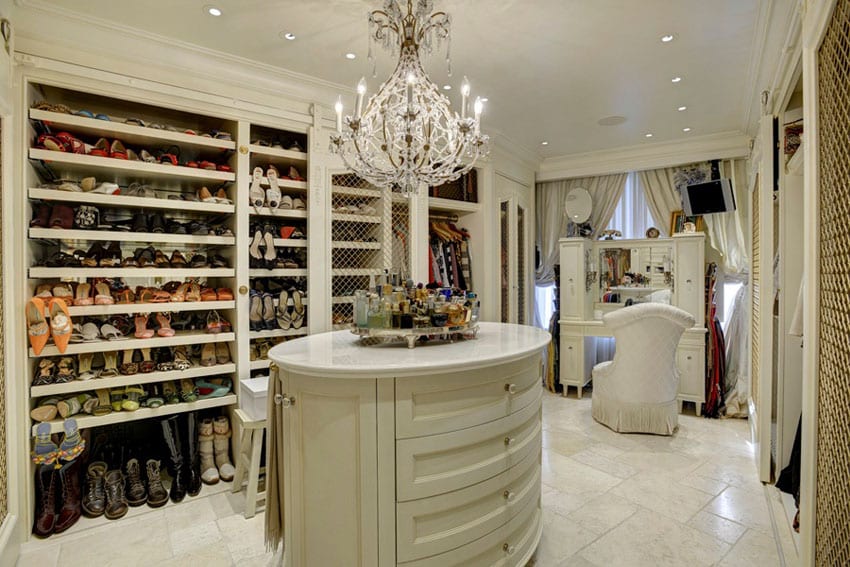 Inspired by classic French interiors, this walk-in closes borrows some details and silhouettes to give it that classic French vibe. The floors are elegant solid marble, paired with all-white cabinets with carving details. One side of the close is the wardrobe which was fitted with sliding doors with mesh screen to mimic a trellis. On the opposite side, is a combination of wardrobe cabinet and shoe shelves, and in the middle, is an oblong counter, with drawer and cabinet storage and a marble top in which the perfumes were placed and displayed.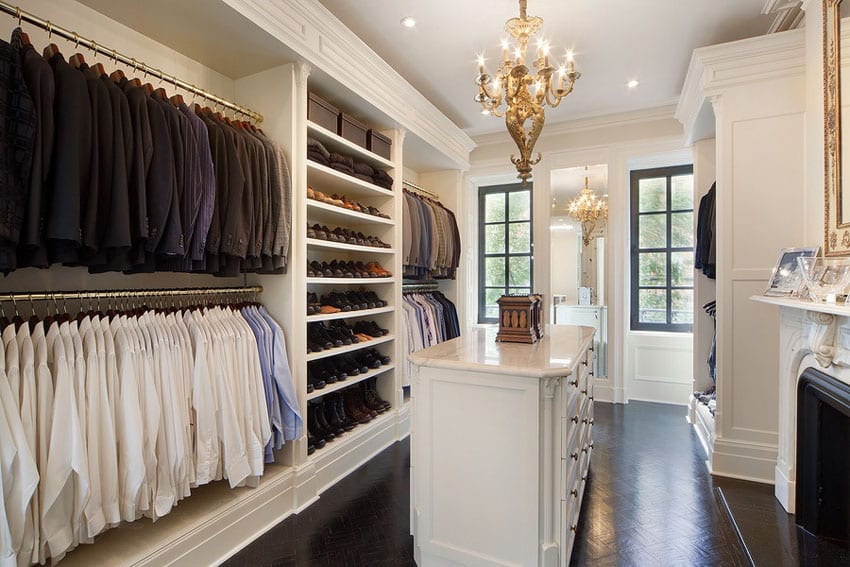 An elegant neo-classic closet which combines white cabinetry with dark wengue wood floors and gold accents, creating a very timelessly elegant look. The open type cabinets appeal clean and organized, as the clothes and shoes were carefully sorted and color-coordinated. The French windows helps brighten the space and make it easy to see everything inside. There's also a full-length mirror, an island table with drawers and a golden chandelier to further add details to the space.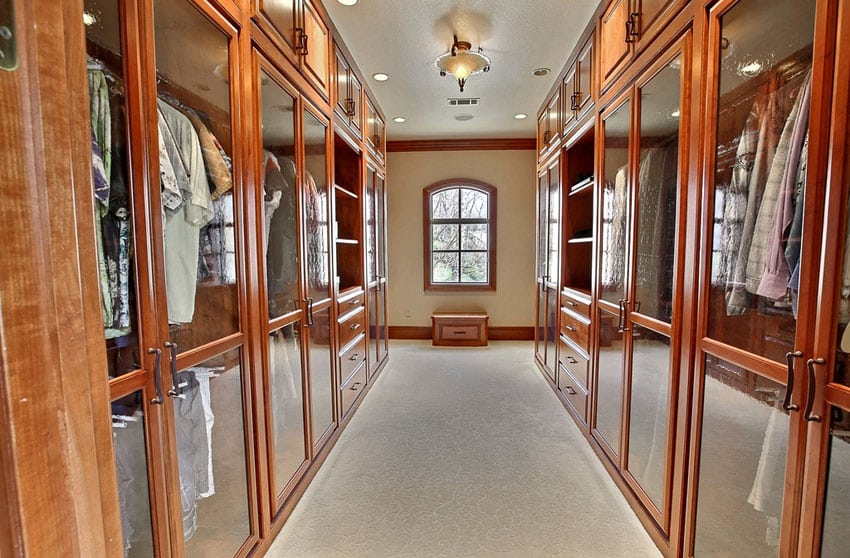 Keeping it clean and organized, this walk-in closet opted for a closed-type cabinets, using solid mahogany door frames with glass panels to make it easy to know which cabinet to open. The inaccessible top storage was used as a closed cabinet for rarely used items, effectively using space. There's also a few open shelves and drawers for items which need to be easily accessed.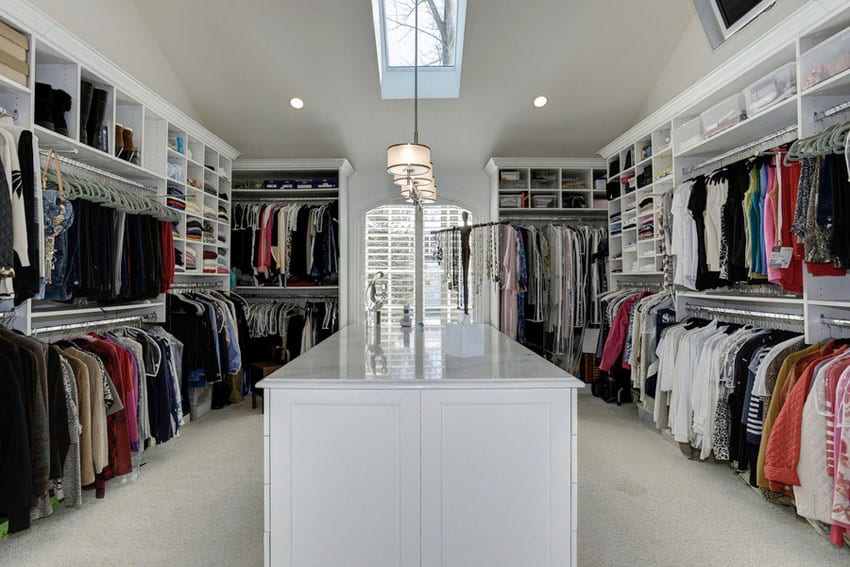 A massive walk-in closet with lots of open storage, showcasing the array of clothes and other items in the room. This much clothing could be overwhelming with all the different colors and textures, and to help tone it down, the cabinets and the rest of the room are all white. There's a combination of hanging racks and open shelves,  creating a good variety of storage for all your needs. It also has a large island counter in the middle which also has more drawer &  cabinet storage.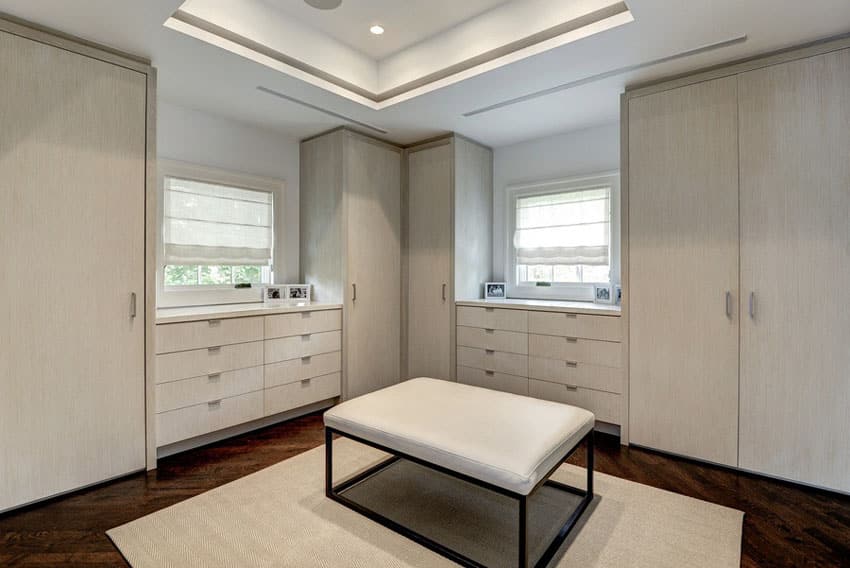 To keep the place looking clean &  organized, all storage is closed, creating a very clean and uniform look. Instead of the usual all white cabinets, this one uses light maple laminates for the cabinets and has a large rectangular ottoman in the center of the closet.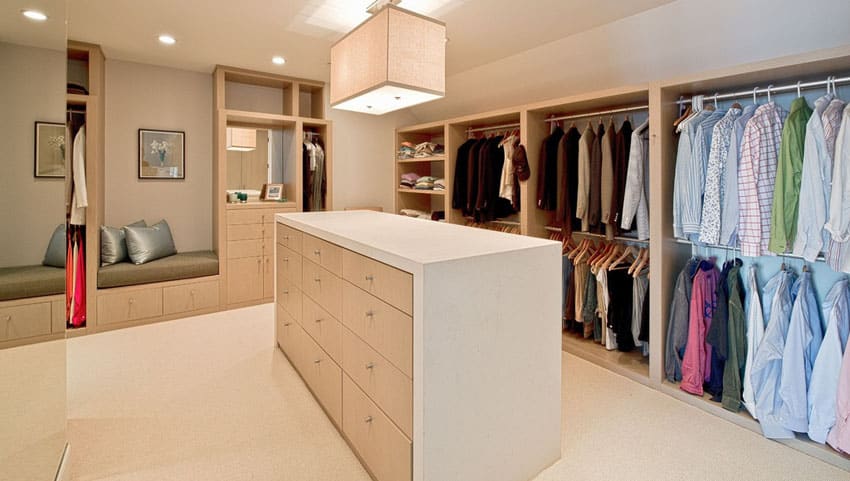 This modern walk in closet has an excellent combination of colors and closed & open storage. The space is fairly large further enhanced by one full-height mirror wall, giving you lots of room for storage. Clothes are mostly displayed on open hanging racks and shelves, while more intimate items and other accessories are kept in the drawers. It has a large island counter with plain white solid surface top and sides, and has light beech wood laminates for its drawers. The rest of the closet uses the same laminates, creating fresh &  modern look to the space.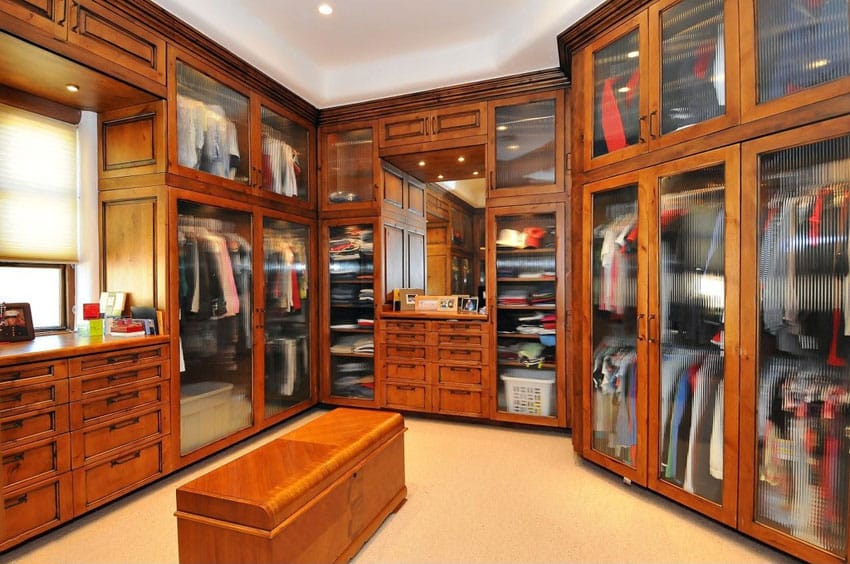 This closet goes for a more elegant, masculine, and classy look, using solid Mahogany paneled cabinets. To give it a modern twist, the clothes cabinets uses glass doors framed with Mahogany, making its contents visible, yet keeping it away from dust. The closet also includes lots of drawer space, and even a small storage bench in the middle aisle.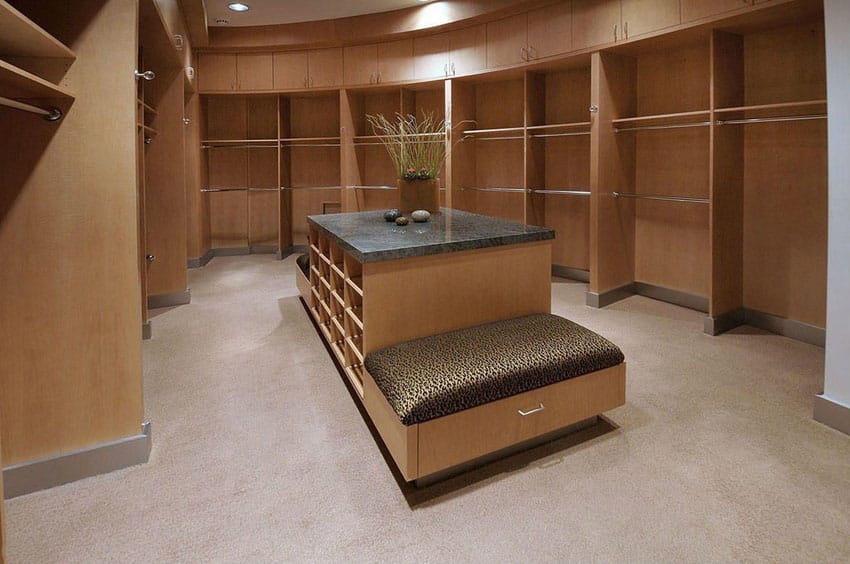 This closet has a unique curved wall, automatically giving this closet a very unique and modern layout. The open clothes racks with overhead cabinet space follows the curve of the wall, providing a massive roomful of  hanging rods. Shelves are kept open &  easily adjustable as well, making it easy to modify and access the items you need.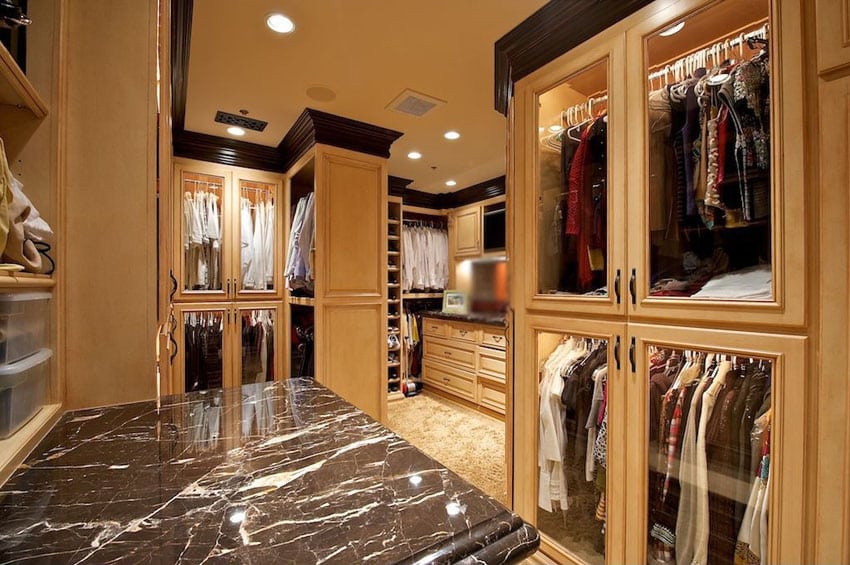 The beauty of this walk in closed is with its wonderful combination of contrasting finishes, creating a bold yet elegant looking walk-in closet design. Maple wood cabinets were combined with dark wengue cornices and black marble, which makes a stark yet elegantly subtle contrast. The glass faced wardrobes make clothing selection a breeze and keep dust and debris off of your clothing.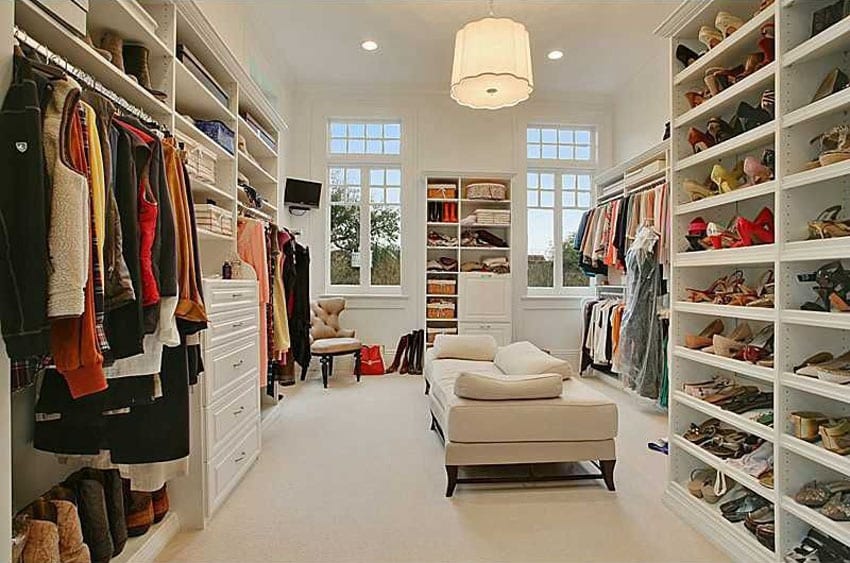 A contemporary walk-in closet design,m which uses the typical all white color scheme to make way for the different colors of clothes and shoes inside the space. Storage is mostly open, with a few drawers for more intimate items. The upholstered bench in the middle makes it easy to fit various shoes for your outfit, and also helps soften up the look of the space.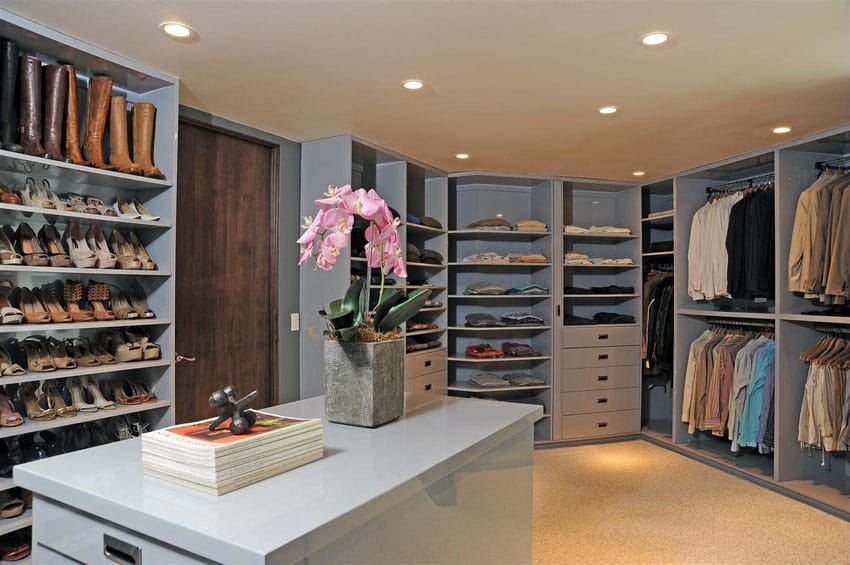 This is another contemporary walk-in closet design, which uses steel blue painted cabinets, creating somber yet relaxed look. Maple wood adds warmth to the otherwise cook toned steel blue cabinets, complementing each other well, creating a balanced look. Most of the cabinets are open type as well, with a few drawers for smaller items.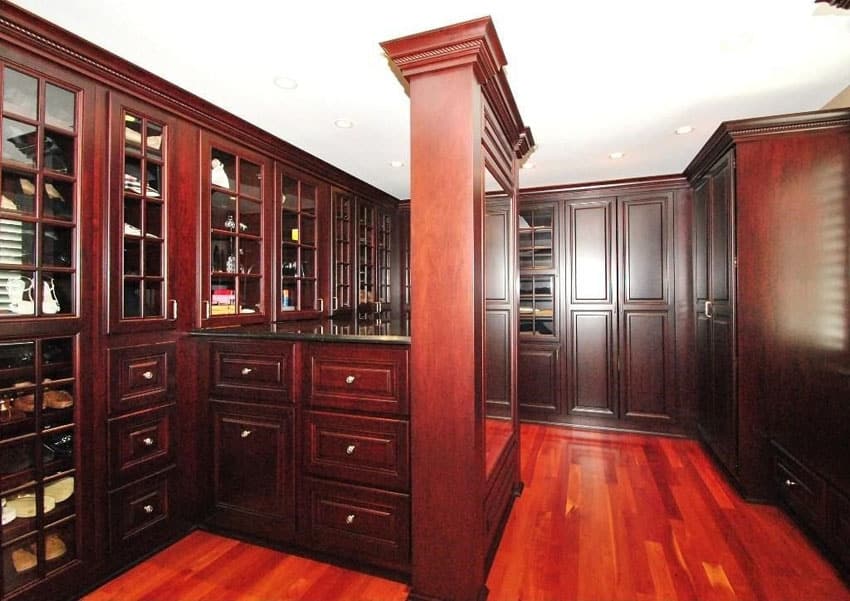 This classic style walk-in closet has lots of natural red tones, creating a dark and bold design. The floors are bright cherry wood, adding a vibrant pop of color to the area, while the cabinets are solid redwood, stained and varnished to achieve a more traditional style of cabinets. The cabinets are all closed storage, with a few French door cabinets with glass panels.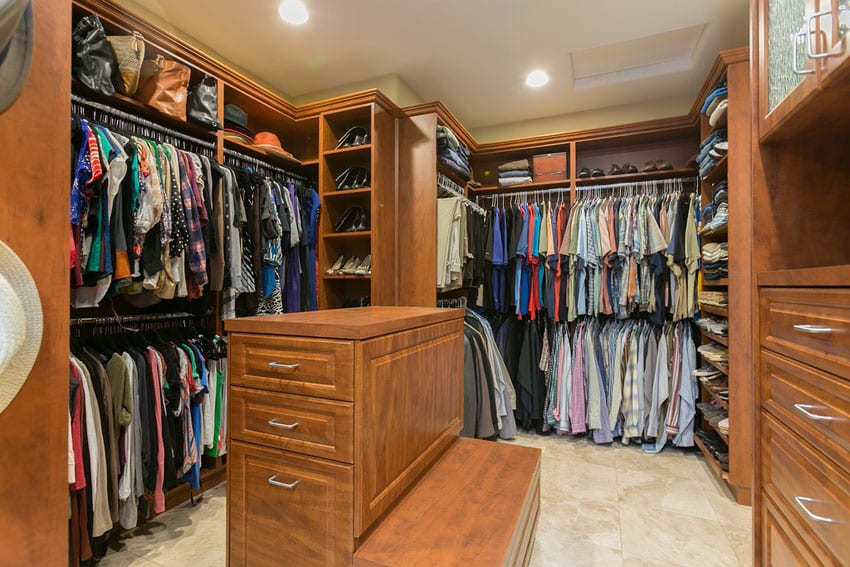 This modern walk-in closet has quit a limited space and an irregular layout which makes designing the cabinets a challenge. Due to the limited space, this design opted for an open-type storage, with open shelves and hanging racks, making the items easy to access, with a few drawers for other items. It uses elegant golden walnut wood for the cabinets, adding warmth and subtle elegance to the space.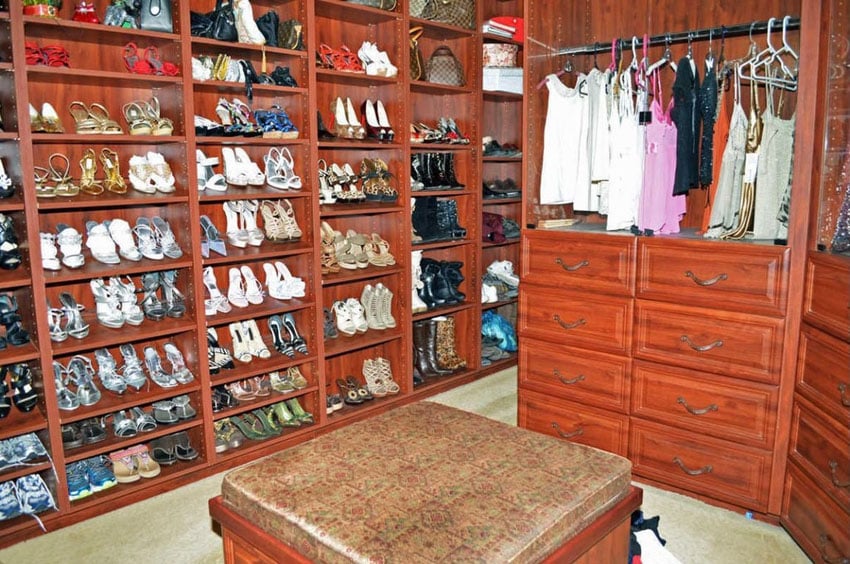 Beautiful walk in closet designs should make you smile every time you enter the room. Using solid Mahogany all though-out the closet, the whole space has a nice warm orange tinge, giving it that classic look, despite using modern adjustable shelves and hanging rods. You will see that one wall is dedicated for the shoe storage, and the irregularly shaped wall is for the clothes and drawer storage.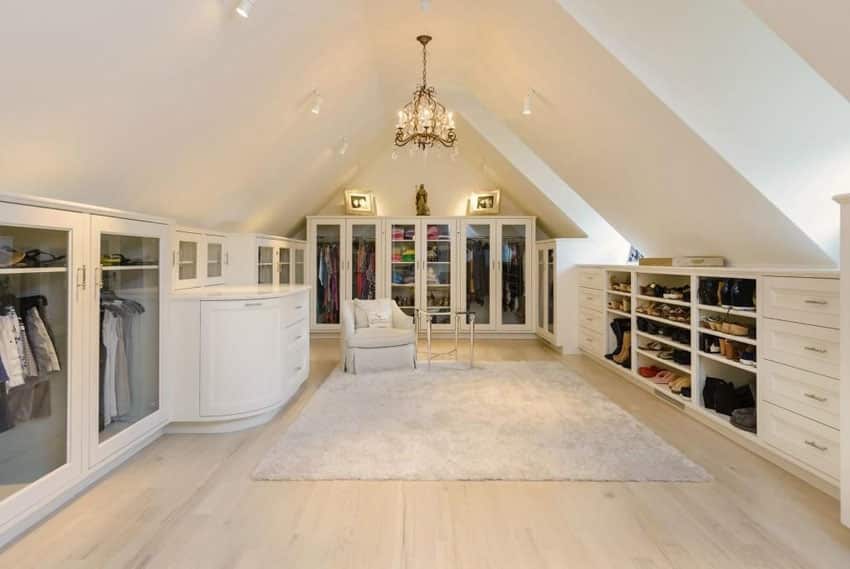 A very gorgeous attic walk-in closet, going for a bright and feminine look by using light colors. Walls and the sloped ceiling were all painted white, and the floors is engineered wood in a very light beech wood color, adding a subtle touch of warm color in the space. For the cabinets, white is the color of choice as well, whit closed cabinet doors fixed with glass panels. Due to the limited ceiling height because of the ceiling slope, some cabinets were made to fit the available space, creating a low clothing storage, an some low shoe shelves.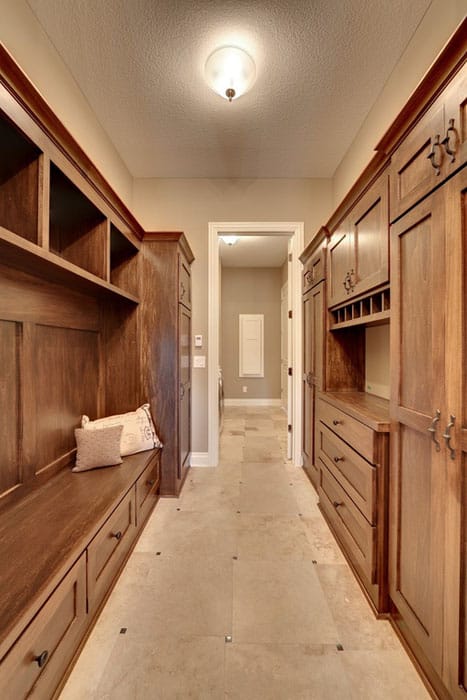 This narrow walk-in closet goes for a more rustic look. Solid teak wood were used to create the cabinets, which was then stained in a weathered walnut finish. The finish of the cabinets, combined with the rustic taupe flooring and oatmeal walls, create a warm and rustic vibe to the space, while keeping it looking elegant. A unique feature of this closet would be its long built-in bench which were fitted wit storage underneath.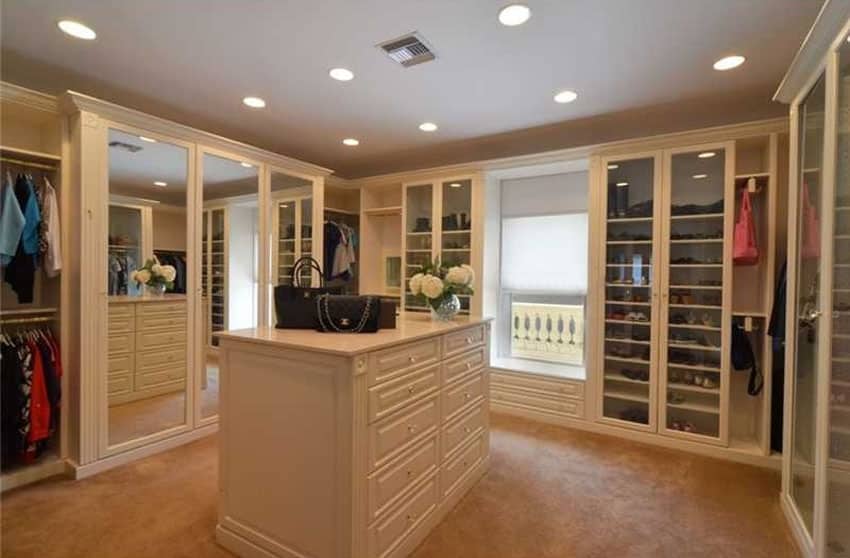 With a neo-classic inspired styling, this walk-in closet exudes elegance and modern simplicity, demonstrating efficient use of space through excellent layout planning. The cabinets are all painted in white to make the space look clean and bright. It has a combination of open and closed storage – there are shelves with glass panel doors, open rack of clothes, as well as closed cabinets with mirrored doors to help extend the space. It also has an island counter in the middle with drawers for additional storage.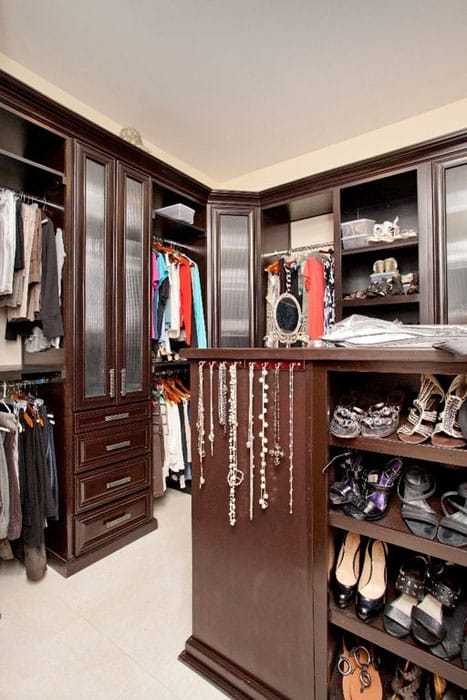 This small walk-in closet demonstrate efficient use of space. It has a combination of open and closed storage, using dark Mahogany wood with frosted glass panels. This enables you to display items used more often, and choose to keep more expensive clothing items on closed storage. It also has an island counter with cabinets and shoe shelf space.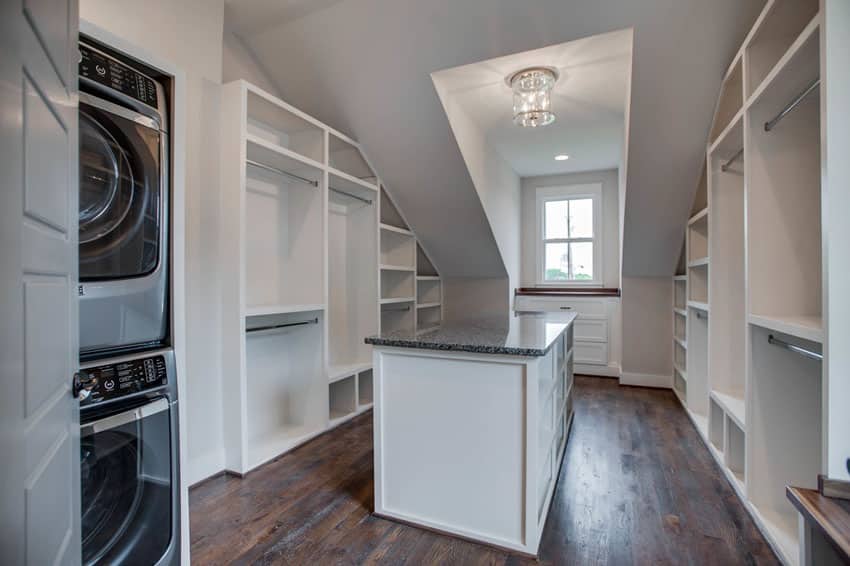 This space combines the laundry area with the walk-in closet. The sloped ceiling of the space makes it quite challenging to design, but the custom-made cabinetry was able to efficiently use all available wall space for storage. 2 Sides of the wall were filled with open storage shelves and hanging racks, using white for a clean minimalist feel, which is a nice contrast against he old oak wood flooring.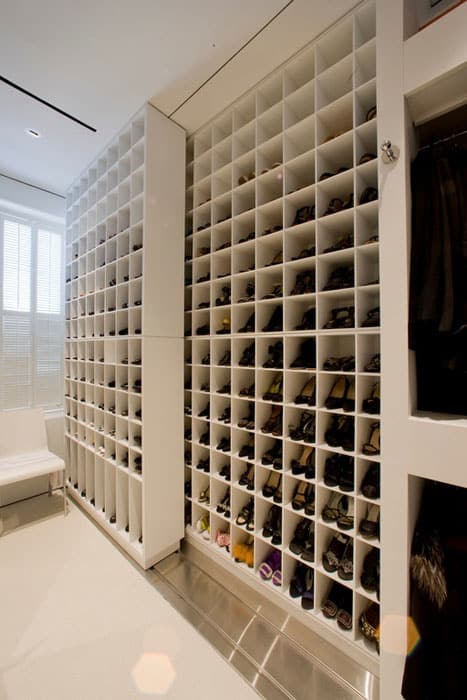 Beautiful walk in closet designs like this are every shoe-lover's dream come true. It takes advantage of high-tech  motion hardware, enabling you to efficiently maximize space. There are two rows/layers of shoe shelves, the smaller of which has top and bottom sliding runners, which you can use to move it side by side to access other shoes. The rest of the closet also has modern styling, with open hanging racks painted in plain white.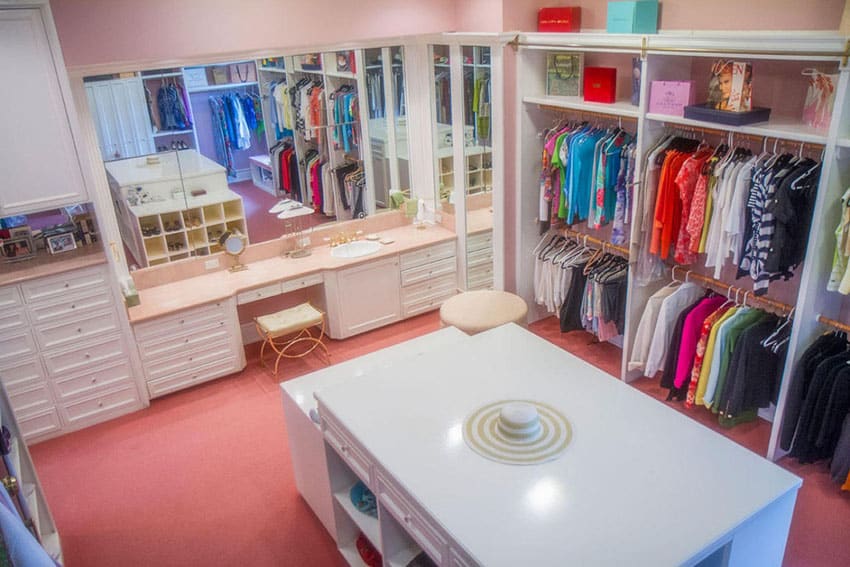 Combination of pink walls and coral carpet floors adds a soft blushed look and feminine wive in this large walk-in closet. The open storage spaces are all in white laminates, which really matches the pink walls One wall has a large built-in vanity with lots of drawer storage and a massive mirror with white wood frame. The room also has a large island counter with more drawers and open shelves, adding more storage space.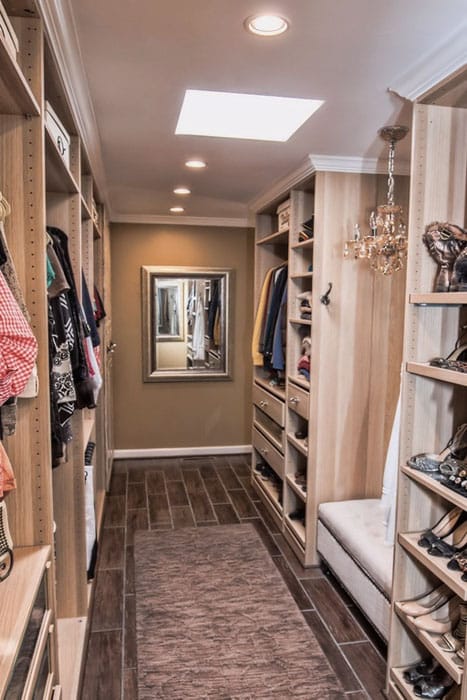 The beauty of natural wood is emphasized in this small walk-in closet. The color scheme is a nice mocha color for walls and dark walnut wood tiles for the floors. For the cabinets, a modular system was used, in a natural clear-stained walnut, creating a nice mate finish. The cabinets are all open-type, with a few drawers for special items.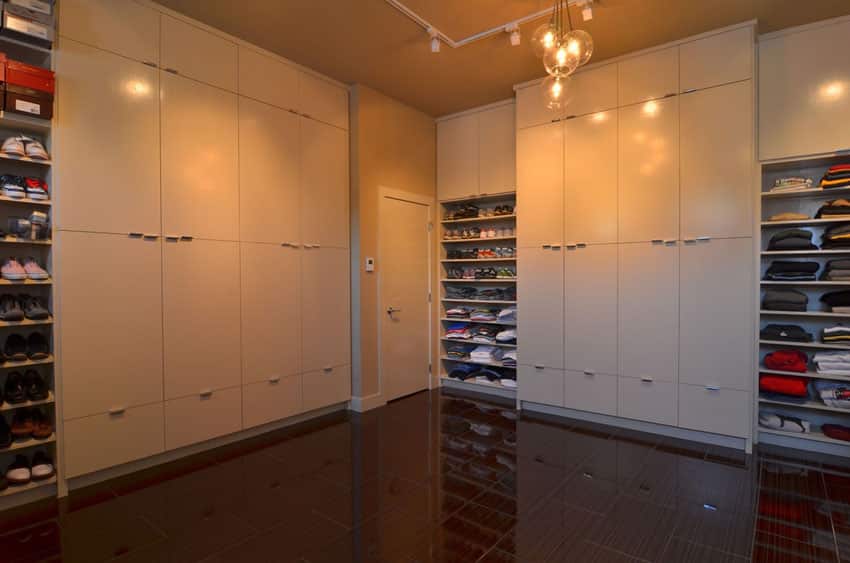 This is a large minimalist modern walk-in closet design. Due to efficient layout/planning, the room has a large open floor area which has enough space to fit in a few movable furniture pieces. All wall were fixed with floor to ceiling height modular cabinets and open shelves laminated in white, which comes out nicely against the dark brown porcelain tiles and the beige walls.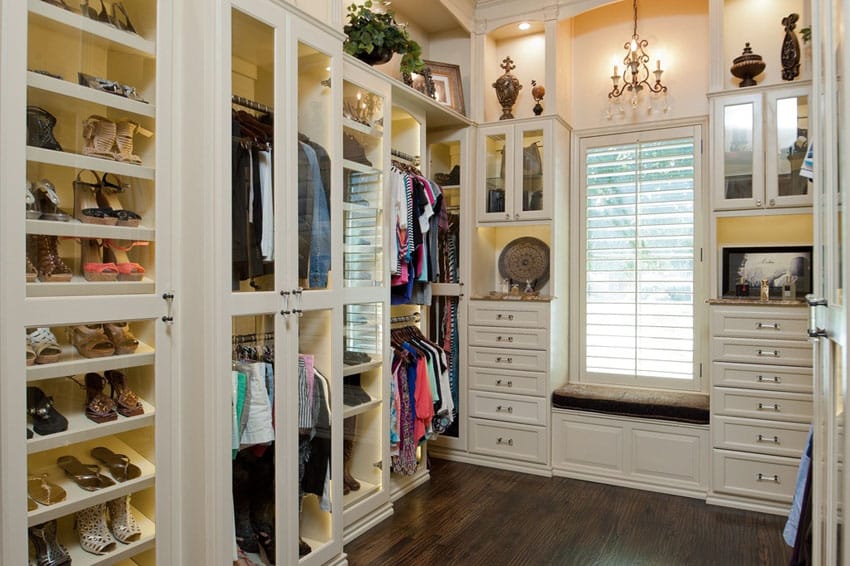 Inspired by classic cabinet designs, this walk-in closet uses paneled cabinets painted in an off-white color, to give it a slightly aged look. The cabinet doors in this closet has clear glass panels, enabling you to see inside. It also has lighting inside the cabinet, which helps you see its contents even when there is no more sunlight leaking through the window. Aside from closed cabinet storage, it also has open clothes racks, as well as drawer storage for other items.
Image Attribution
Related Bedroom Design Galleries You May Like:
Walk-In Closet Ideas – Luxury Master Bedroom Designs  – Designer Bedroom Ideas – Bedroom Wardrobe Designs – Romantic Bedroom Ideas